Paving your driveway is one of the most important decisions you'll make for your property.
A driveway will be used by you and your family on a daily basis, so it's important to choose paving that will stay in great condition for the duration of its life. If you come to sell you house a driveway will have a major effect on the price.
There is a wide variety of options for driveway surfaces available however paving in our opinion is the nicest and is likely to involve the least maintenance.
Paving materials come in a wide range and it can be difficult to know which one will suit you best. You need to consider cost, permeability, lifespan and curb appeal when choosing what type of paving material is right for you.
In this article we will compare all the types of paving on these four points so that you can make an informed decision about what's best for you!
Based in Preston or Lancashire? Let our professional paving team take care of the hard work.
Planning permission
The government introduced Sustainable Drainage Systems (or SuDS) in 2008, to deal with the stress being placed on our country's main sewer network by new housing development.
Any hard surface over 5m2 between your house's front and the highway now requires planning permission unless that surface is SuDS-compliant.
There are common solutions for getting around these requirements including replacing impermeable materials with permeable ones or demonstrating that you can handle all of the run off water on your property with soakaways or drainage systems.
Types of paving for driveways
Concrete paving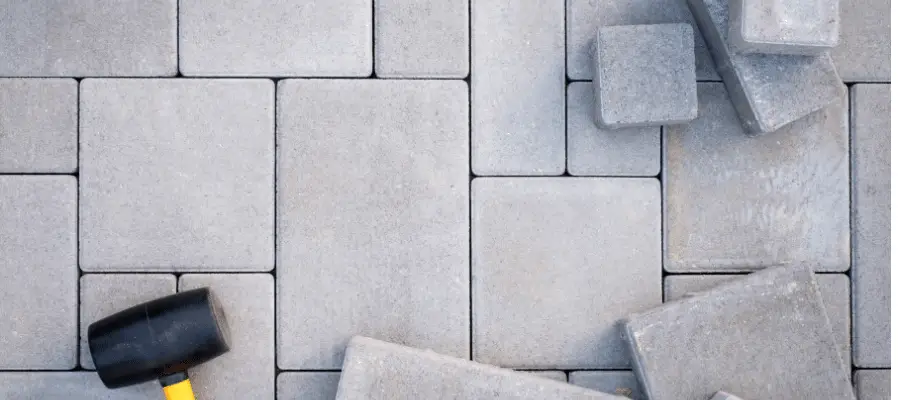 Available in both decorative and utility styles, concrete paving is usually the cheapest choice. With good durability and fairly low maintenance concrete paving can be a good choice for a large area.
However, it less aesthetically pleasing than some other paving options. It also doesn't age too well with pitting or cracking common as it deteriorates over time.
Like many things in this world concrete paving comes at a cost and the lifespan of this type is around 30-40 years.
The permeability of concrete paving makes it a good choice for those looking to reduce run off water on their property, however some types may not be fully SuDS compliant.
Cost: £
Permeable: Yes
Kerb appeal: Low
Sandstone paving
Sandstone paving is currently the most popular type of paving in the UK.
It's permeability is fairly mediocre and not as good at reducing run off water as concrete, but it does have a much higher aesthetic appeal to many people due to its natural appearance.
Limestone paving also has many of the same characteristics as sandstone and is available in darker colours.
With sandstone paving you can expect a lifespan between 25-50 years with regular maintenance (such as sealing and repointing).
As you would expect, sandstone paving is more expensive that concrete or block paving with some sawn or uniform coloured varieties coming in very pricey.
You will likely need a professional to install sandstone paving unless you have done it before. If you want to have a go yourself please check out our guide to installing paving.
Cost: ££
Permeable: Yes
Kerb appeal: Moderate
Block paving
This is the most traditional type of paving that you'll find in a residential drive way. Block paving is easy to install as it can be laid without on a simple sand base.
The downside to block paving is that it can look quite dated and can discolour quickly. Block paving is also more prone to weeds than most other types of paving due to the high number of gaps in the material.
The lifespan of block paving varies a lot depending on how well it's looked after, but with regular maintenance (such as sealing and repointing) you should get between 25-50 years out of the blocks.
Cost: ££
Permeable: Yes
Kerb appeal: Moderate
Porcelain paving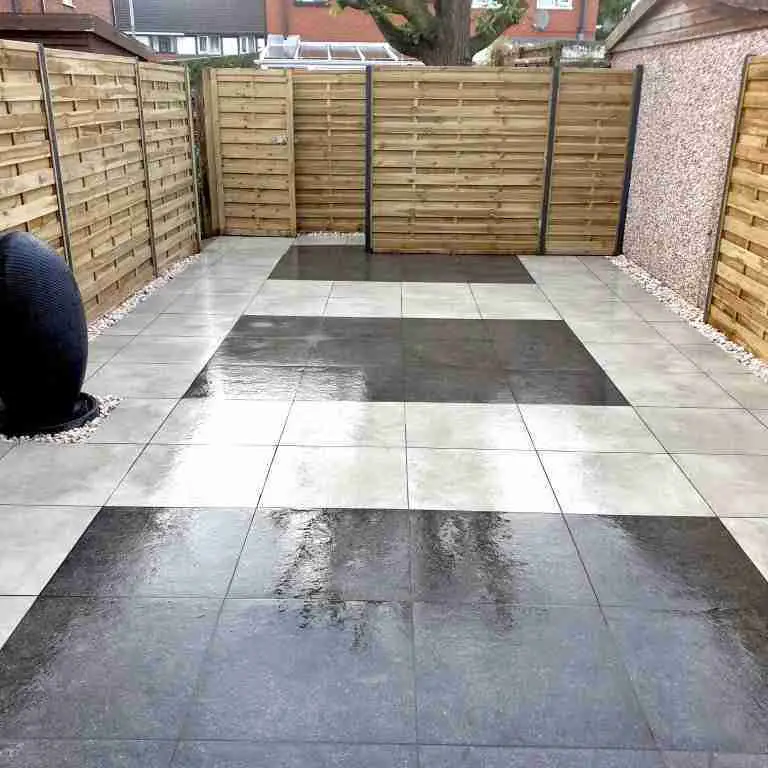 Porcelain paving is a great option for patios and driveways. It is an attractive paving material that can look classy and holds its colour extremely well. Porcelain paving is not permeable but it can be laid so that water easily runs off it in an appropriate direction.
Porcelain paving is uncommon on driveways due to its high cost, but it is a popular choice for other areas of the garden.
If looking at using porcelain on your driveway make sure to check the tiles you buy can handle the weight of any vehicles you want to park. Although porcelain paving is extremely durable it is also very brittle and prone to chips. Higher quality batches usually minimise these issues.
See our porcelain paving FAQs article for more information.
Cost: £££
Permeable: No
Kerb appeal: Very High
Clay brick paving
A popular choice for more rustic properties, clay brick paving is similar in many ways to block paving.
The bricks are usually laid in a herringbone pattern with joints running at 45 degrees to the road surface. Clay brick paving is fast to install, and is available in a wide variety of colours.
Clay bricks are not very durable when compared with other materials such as porcelain or Indian sandstone paving.
Clay bricks need regular inspection and maintenance, which is usually done by removing the brick to inspect it before replacing so that any damage can be repaired quickly. Damaged bricks can also be sharp and cause issues for pets or people walking on bare feet.
Cost: £
Permeable: Yes
Kerb appeal: High (if matched to house)
Which type of paving is best for your driveway?
To narrow down your option we recommend starting with the cost. This will be dictated by the amount of preparation needed and how large the area is.
Work out how much you can spend per square meter and this will tell you what is within your price range. See our landscaping cost calculator for rough prices per square meter.
The next consideration should be drainage.
Most people don't give drainage much thought when they are considering driveways, but it's important to remember that water needs somewhere to go.
If you can install drainage beside your driveway or water would not run off onto a public road then you have no constraints.
If you live in a residential area you may be required to use a permeable surface or design the drive so that it can channel any runoff water elsewhere. If drainage is your primary concern then concrete paving, block paving and brick paving will be your best choices.
If you have passed all the hurdles above you can opt for an amazing driveway made from porcelain paving or natural Indian sandstone paving.
These materials have the highest kerb appeal and will require very little maintenance.
Overall porcelain paving is our top choice for driveways due to its high resistance to stains, weather and wear. It also looks great and fits in with contemporary styles.