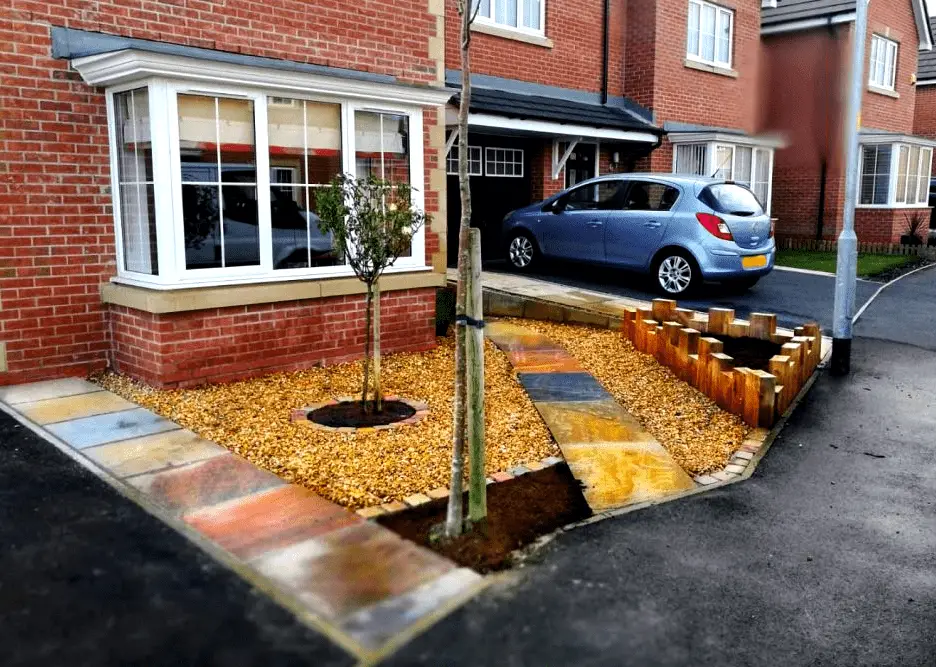 Front garden landscaping, Longridge
Fiona wanted to turn her front garden into something to compliment the house. She didn't want to spend hours looking after the garden so she opted for a low maintenance garden.  Fiona had a good idea of what she wanted and just needed someone to build it for her. 
After calling Ian at Acorn Gardening he visited a few days later to give an initial consultation and a free quote. After working out the materials needed and how to construct the custom elements of the garden the landscaping work was agreed. 
The landscaping work involved included removing the turf and installing the garden seen above. This would give her enough area to grow some feature plants whilst looking great all year round. Choosing lovely naturally coloured stones keeps your garden bringht all year round. 
Add Your Heading Text Here
Free consultation. Ian went to visit Fiona to talk over her requirements and figure out how things would work practically.
Removing the old garden.  The old turf and alot of soil needed moving to make room for the lovely new landscape garden. 
Installing the custom wooden sleeper planter. With qualified joiners on the team, we are able to offer custom built garden features. We build a lovely, sturdy garden planter from treated wooden sleepers. This will be built up with soil and act as the main feature of the garden for years to come. 
Paving and rough stone borders. It can be hard to make minimal gardens look lively but Fiona managed to do this perfectly by using coloured stones. We installed naturally colours Indian stone slabs and stone sets which give structure and vibrancy to the garden. See our paving page.
Flint gravel. Flint is another great way of ensuring you keep some colour in the garden when going maintenance free. We sourced, delivered and spread tumbled flint gravel which is great to look at and easy to contain. 
Custom build wooden sleeper planter
Want something custom built? We custom build garden features, fences and much more all over Preston. If you have an idea but need some help our experienced project manger can help you put together a great idea. 
If you are assuming that custom build garden features will cost the earth, think again. We keep the costs down by getting our materials wholesale and using high power tools to get the work done fast. 
So if you would like something special building why not get in touch for a no obligation free quote. 
The neighbours were so impresses they hired us on the spot
Fiona was over the moon with her new landscape garden. She said she would recommended us to anyone for quality, professionalism and value for money.  She now has a lovely garden which will look good all year. 
Next door was so impressed after watching us work that they asked for a quote and hired us on the day. They live on a new estate where the gardens are pretty basic. We specialise in building complete new landscape gardens so we are ideal for the job. 
If you would like some high quality landscaping work done we are still taking on work so please do get in touch. 
Looking for more services?
Visit our home page to check out our other services