About
Margaret's back garden was boggy, shapeless and unused. After years of neglect the garden needed renovation. She wanted to be able to enjoy the outdoors. 
Here's a little walk though of what we did
Drainage
The are was severely waterlogged. In one corner there was a puddle 1.5 meters across and 20 cm deep. It was almost a lake. 
We installed 2 separate soak-away areas under the grass and the paving to dramatically reduce the above ground water collection causing the puddles. 
Fencing 
The close board fencing used here offers a long life, good security and good privacy. 
Paving 
Coloured sandstone paving is a speciality of ours. You can see here the charming effect it creates. This is enhanced by epoxy resin which we use to preserve the paving.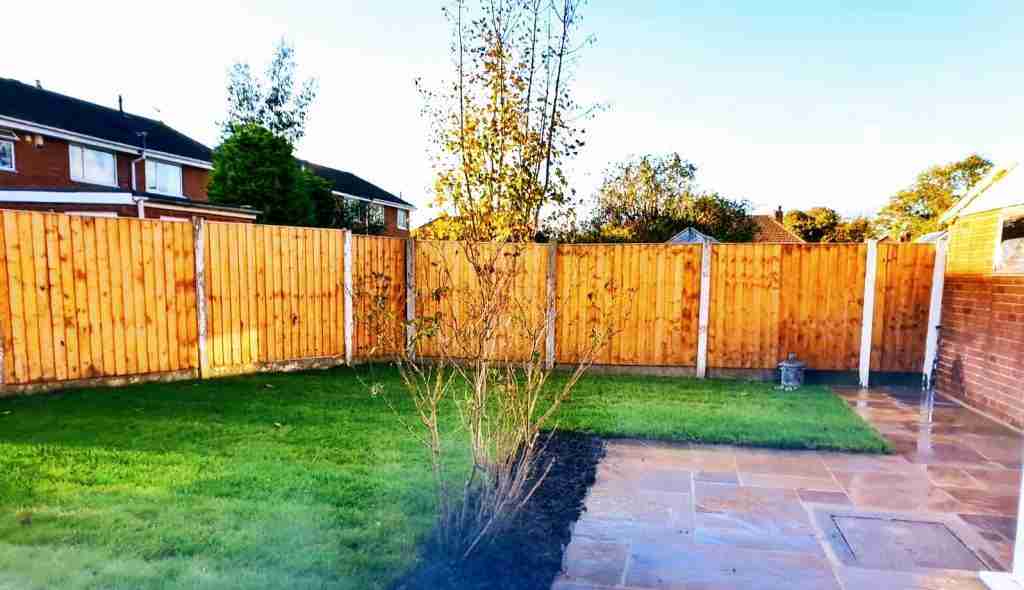 Turf and flower beds
In 2 – 4 weeks the turf will be rooted in and ready to go. The flower beds are filled with top soil and compost to ensure they are fertile for all types of plants and shrubs. 
Ready for next year
This classic British garden has everything that Margaret and her family need. Although the weather may prohibit them from using it this year they will we well set for next year. 
They next April the grass will be flourishing, the flowers will add colour and it will be a place to relax and connect with nature. 
Getting ready for next year? 
Most don't know it but the best time to get landscaping work done can be in winter as the prices tend to go down with demand. 
Most people wait until summer to get work done but this can end up costing them more than 50% extra as demand is up to 6 times higher. 
Get in touch today if you are thinking about getting work done over the winter.