Landscape gardening cost calculator

Thanks for using our calculator. This can help you get an idea of what your landscaping project could cost. The prices are close to what we actually use when giving quotes so you can expect them to be fairly accurate.
We are not the cheapest you will find. This is because we pay our staff fairly, train our staff to do things properly, honour our guarantees, have the proper insurance and offer great service.
This all adds up to the job being done properly.
Dedicated Project manager
Prices are for the start to finish job. This includes all labour and materials and any clean up or finishing touches required.
Need help choosing what you want? See our range of materials here.
How to use
Choose material
Enter quantity in meters, square meters or units
Want to make your price official or ask any questions?
How much does landscape gardening cost in the UK? 
The average cost of landscaping a garden in the UK is around £90 per square meter. However this is almost meaningless because there are so many factors. It's like asking how much clothes cost. There is a different answer for every person.
Most gardens have several elements such as paving, turf, flower beds, fences and furniture. Each of these elements has hundreds of potential options which will vary in material costs and labour needs. 
To help you figure out what the total cost could be we have created a landscape gardening cost calculator. We have developed this over years of experience and  use this for pricing our garden landscaping work.
This should be seen as a benchmark for high quality landscape gardening. If you are pricing garden work and it comes to significantly more or less, ask why. You could be getting bad quality or paying too much. 
Bare in mind that we are based in Preston, prices may vary depending on the area of the country you are in. 
How much does it cost to have fencing installed? 

For some gardens a fence can be a glorious asset by creating privacy and security and also acting as a nice feature to frame your garden. 
The price of fencing per meter ranges from £70 for smaller trellis and picket fences to £140 for heavy duty or decorative large fences. 
If you are thinking of buying the materials and hiring in the labour, fencing labour prices should cost between £20 and £40 per hour. We always advise against customer purchasing their own materials as there are frequently problems with using them which end up costing more. 


Cost of laying paving per square meter
The cost of paying paving slabs per square meter ranges from £70 to £150. At the lower end this will be laying customer supplied paving for around £70 per square meter. High end paving such as porcelain or ceramic paving will cost up to £150 per square meter for labour and materials. 
All paving is labour intensive, uses heavy machinery and takes skill this means that labour will usually make up the bulk of the cost. Block paving labour costs can be between £50 and £75 per square meter. 
The calculator above shows: 
Indian sandstone prices 

Block paving prices 

Porcelain paving prices 
Brick paving prices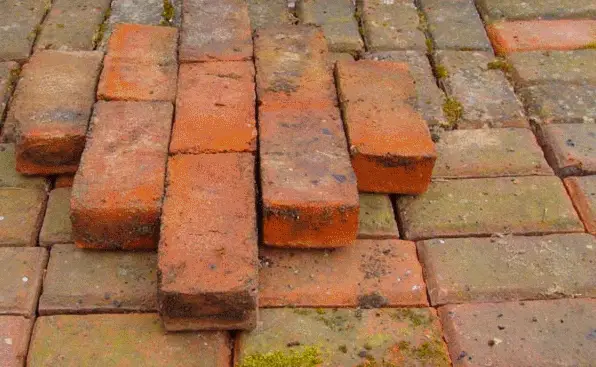 Brick paving is laid in the same way as block paving making the prices similar. Brick paving prices per square meter range from £100 to £140 
Artificial Grass cost calculator 
The increasingly popular artificial grass costs between £85 and £110 per square meter for labour and materials. The price of artificial grass varies depending on the quality used. We always recommend going for high quality which will last. 
Watch out if the price is too good to be true. There are plenty of ways to lay artificial grass however most of them don't work. They will fall apart after a year. 
We build a solid wooden frame to anchor the grass firmly, making sure it will never move. 
Use our artificial grass calculator about to find out how much a high quality artificial lawn will cost. 
The price of borders and edging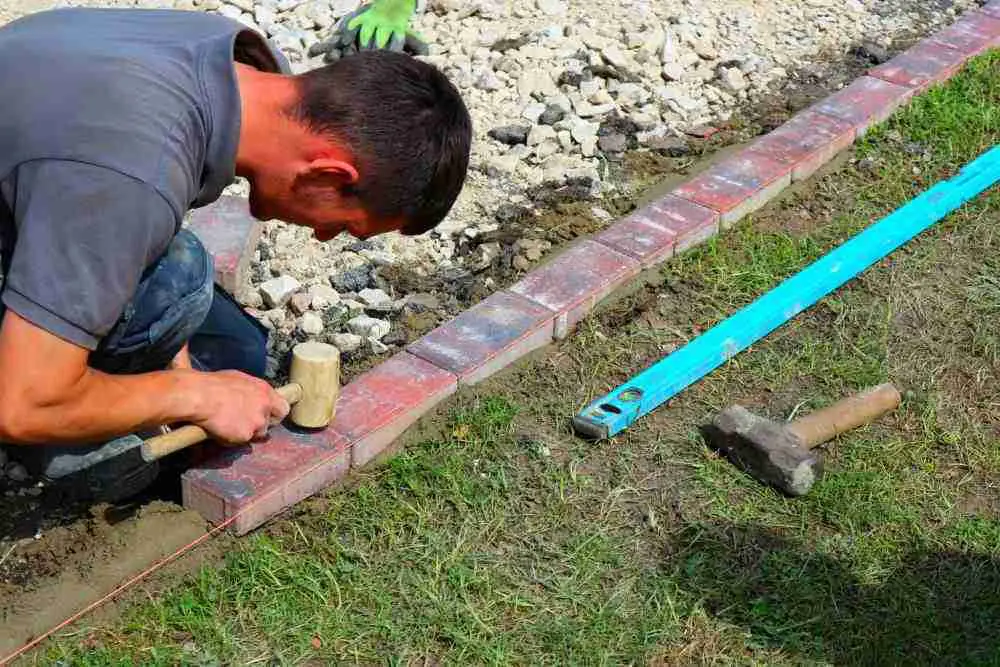 Lawn edging can make all the difference to how your garden looks. It frames and gives structure to your garden. There are plenty of options available for all tastes and purposes. 
Garden edging prices range from £28 to £50 per meter. Brick edging starts at £30 per meter for labour and materials. Granite block edging starts at £42 for labour and materials. 
Heavy duty railway sleeper garden borders start at £35 per meter and can be used to build up areas and create planters. 
Turf cost calculator 
The calculator above shows you the price of turf per square meter including labour and materials. Don't forget to include preparation in your turf calculation. 
How much do landscape gardeners charge to lay turf? 
Turf installation prices start from £17 per square meter up to £45 per square meter for difficult surfaces. 
How to calculate the cost of your decking
Our decking cost calculator show the price per square meter of composite decking, softwood decking and hardwood decking. 
Prices of decking per square meter
The cost of decking per square meter including labour and materials is as follows: 
Cost of composite decking with per square meter is £130 – £160 

The cost of softwood decking per square meter is £100 – 120

The cost of hardwood decking per square meter is £130 – 150 
If you are looking at decking as a long term investment we would strongly recommend composite decking as it offers over 5 times the lifespan of softwood decking and requires very little maintenance. 
The prices for hardwood entirely depend on the type you would like. Rare hardwoods will cost much more than most other materials. 
Gravel driveway cost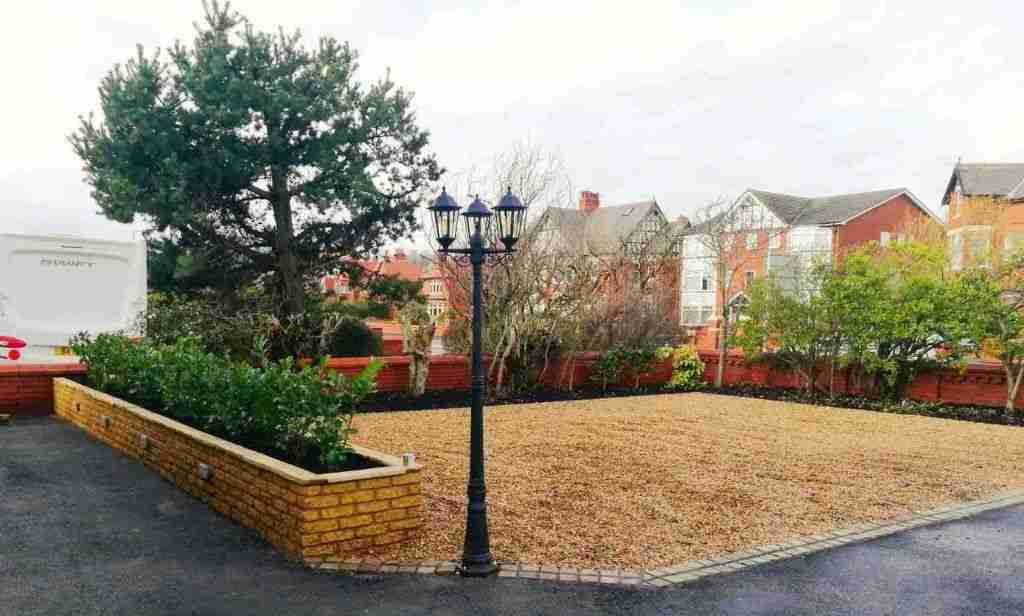 The gravel driveway calculator gives the option of 3 different types of gravel; standard gravel, golden gravel and slate gravel. They are ideal as both driveways surfaces and garden surfaces. 
Golden gravel starts at £32 per square meter, Slate gravel costs start at £36 per square peter and standard gravel starts at £30 per square meter. The prices include all materials and labour. 
Prices for other types of gravel driveway are available on request.
Drainage cost calculator 
The drainage cost calculator gives two options for garden drainage; french drains and storm cubes. 
French drains are ideal for areas where water can be diverted and drained away. French drain garden drainage costs start from £46 per meter. 
Storm cubes create a large soakaway area in gardens where diverting the water is not an option. They are more expensive but can save your garden from becoming waterlogged.
Garden soakaway costs start from £400 per cubic meter. Half a cubic meter can be effective in smaller gardens.
Cost of brick walls per square meter
The garden wall calculator gives one option of walls however we have different styles available. The cost of a brick wall per square meter ranges from £180 to £210. 
The cost of a retaining wall per square meter starts at £120 and ranges to £160 depending on specifications.
Driveway cost calculator UK
Thinking of getting a new driveway? Our driveways calculator can simplify your job by giving you an accurate price to compare against other quotes. 
The most popular type of driveway in the UK is tarmac. The cost of tarmacing a driveway per square meter ranges from £97 to £112. This tarmacing price assumes an already level and partially prepared surface. 
Other popular driveway surfaces are paving and block paving. The cost of paving a driveway starts at £110 per square meter. Driveways need a more solid base to deal with the weight of vehicles. 
The cost of block paving a driveway starts at £110. This has come down significantly with the development of cheaper materials. 
Use our driveways cost calculator above to find out how much your tarmac or paving will cost.