Garden Drainage Service, Preston
Discrete drainage solutions for most water logging problems 
About our drainage service
Got a water logged area that needs draining? Acorn Landscape Gardening offer great garden drainage solutions in the Preston area. If you have a garden which is collecting surface water or planting beds which won't drain, we can help.
There are various ways to help a garden to drain properly and we can find the one that works for you. This can be anything from elevating the problem area to installing underground soak away areas which will keep the water off the surface.
We are experienced in garden drainage and come highly recommended. Read our guide below or get in touch to see what drainage solutions we can offer you. 
Garden drainage guide
There are multiple types of drainage which could work for your garden depending on the area flooding and what is causing it. Acorn Gardening are familiar with garden drainage problems and can offer solutions to most of these.
Starting with the most simple, here is a list of the most common types of garden drainage and what they are suitable for.
Elevated areas
The cheapest and most simple solution for drainage of specific areas. This consists of elevating the area using a material with good drainage such as soil, gravel, hardcore or a mixture of the 3. Elevating an area is not always possible or practical but can be a convenient solution for some problems
Ditches
Used when your garden is waterlogged due to being at the bottom of a slope. A simple ditch around 90cm deep needs the bug at the lower end of the slope. This can be filled with gravel or stones. A drainage will act as a buffer by collecting water underground before it pools on the surface.
Drainage ditches can be covered with soil and planted with swale plants which thrive in wet conditions. Swale plants can also help retain some water.
Drainage ditches have their limitations. Too much water and they will be ineffective. We recommend them where there is some inconvenient surface water but not for larger problems.
Soak away
A soak away is just a slightly more effective version of a ditch. Essentially, a soak away involves digging a ditch which is then filled with hollow plastic drainage cubes. The drainage cubes are covered with a mesh which prevents sediment getting into them.
A soak away can be covered with grave or another surface to hide it. Soakaway drainage has the same limitations as a ditch but can hold around 50% more water. This can work for some relatively waterlogged gardens.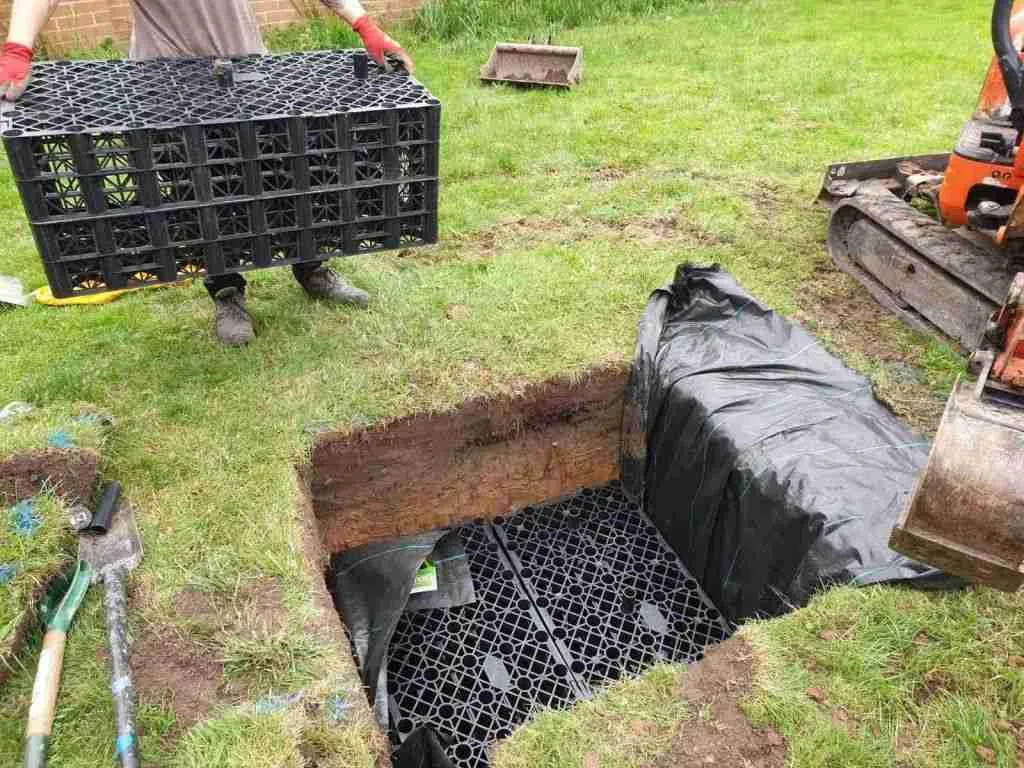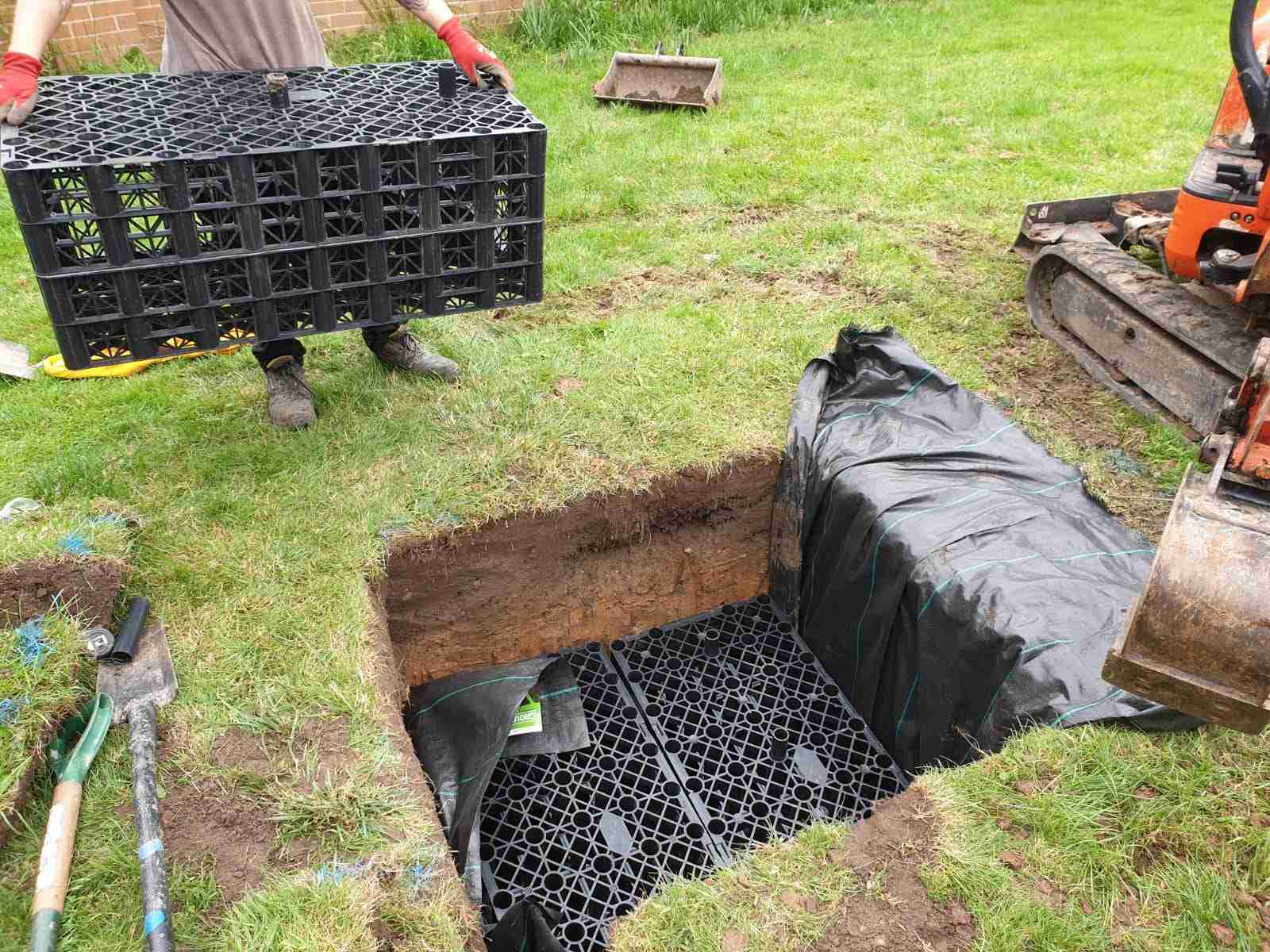 French drain
A french drain works by creating a downhill channel which directs the water to another area. French drains can be used in conjunction with ditches or soakways. To build a french drain, a slanted ditch must be built which will catch the later and guide it another area.
The French drain will be filled with gravel and lined with permeable landscape fabric to ensure water can get through.
Piped drainage
Just like the french drain but using pipe which will let water move more quickly. Piped and french drains can be set up in any configuration which makes sense for your specific garden. This can be one line at the bottom or could be a herringbone arrangement which gathers water from around the whole garden.
FAQs
Q1: Will getting drainage installed mean i have to dig up the garden?
A1: It could do, it just depends how bad it really is. We always try to get the desired effect with the minimum disruption.
Q2: How much will it cost?
A2: This also depends on what you want/ need. The most costly part of drainage is usually the digging. Gardens which need large drainage or in areas which we cannot use excavators can be more costly. As a rough guide; for an 80 square meter garden with very poor drainage it cost £550 to get a large drainage ditch and some french drains installed.