Do you dream of having a beautiful garden? It doesn't matter if it is large or small, a modern garden can be designed to fit any size and style.
Whether you are looking for flowers, plants, trees, grasses or even water features – with these expert tips on how to design your perfect modern garden space from start to finish you will be able to create the outdoor area of your dreams!
Start with a purpose
Before the practical aspects you need to think about what your garden is for.
One of the most important steps in designing a modern garden is to start with purpose.
What do you want your space for? Do you dream about having an outdoor dining area, or perhaps just need some place to relax and unwind after a long day at work?
Whatever it is that you are envisioning – take time to think carefully about what you want to get from the garden.
Design it as one space
Once you have a purpose for your garden, start designing it as one space.
Most modern gardens are designed with the entire outdoor area in mind – not just individual areas like a seating or dining area.
It's important to consider how all these different elements will work together and balance each other out so that they flow into another seamlessly.
Getting this right is an art not a science and takes some experimentation and inspiration.
Pinterest is your best friend
Pinterest is a great place to find design ideas that you can adapt for your own garden.
You'll notice that there are plenty of pictures with lists of sources under each one, usually these will give you some good starting points.
Failing this, start by searching on Google images – the search engine does an excellent job at showing diverse ideas which can get the creative juices flowing.
Visualise using 3D design
If you're having trouble visualising a certain space then try using an online tool such as SketchUp to work out some of the basic dimensions.
This can be really helpful when it comes to creating your garden design plan and developing initial ideas for what plants or features will go where.
Getting those proportions and elevations just right can be difficult without seeing what it will look like first.
Gardens are expensive so it is worth spending the little extra time to get it right.
After visualising a few different layouts, you can then decide what will work best for your garden and start to think about the features that would be necessary or desirable in order to create the space of your dreams.
A design which compliments the property
We have all seen architecture and landscape design which seamlessly blends the old and the new into something timeless. I'm sure many of us can think of examples of the opposite too!
A good designer will take into account the landscape, architecture and existing features of your property.
Here are a few ideas for what can be done to create gardens which compliment the properties they sit on:
If you are looking to save some time and don't want to learn the principles of design the take to the internet, find examples in similar styles and borrow their ideas.
Create boundaries and focal points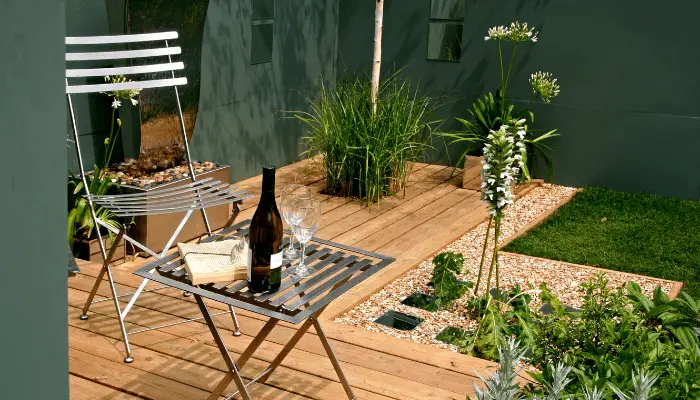 It's important to have boundaries around your garden, but they don't need to be visually obtrusive. Consider a water feature or small hedge as an alternative option which creates the illusion of space without taking up valuable ground-level real estate.
Using stark contrasts in both colours and materials can create a visual boundary which is quite stunning but subtle at the same time.
The use of focal points in design is also very useful – both for inside and outside. Create a focal point
For exterior gardens, the focal point is usually a tree or a feature. The size of the tree and its shape should be taken into consideration when deciding on what to plant in front or at the base of it.
If you have limited time to maintain your garden, then choose plants which are easy-to-grow but still compliment their surroundings.
Choose the right materials
Contemporary garden design focus on clean lines and contrasting colours. Choose interesting materials for your garden design. Examples of materials that can be used include stone, metal, wood and other modern elements.
Porcelain paving is a popular choice for modern gardens. It can be used to create a patterned effect or it can just be laid in one colour and style.
A large area of moss is also an excellent way to make your garden feel more natural – but ensure that you keep the moss moist at all times by watering regularly if needed.
Raised beds built from concrete blocks, rendered white and topped with porcelain can create a great modern garden.
If you have old or rough walls which you don't want to replace then timber cladding can totally transform your space.
Composite decking can create raised areas which are fantastic dining areas and sun traps.
Pergolas bring elevation to your new outdoor living space. With hundreds of designs available there will be something for everyone.
Water features and planting beds
Consider adding a water feature to your modern garden. The sound of running water and the effect it has on plants is well documented: most prefer moist soil, but some are even known for thriving when left in standing or trickling pools.
The sound from a fountain also adds atmosphere and depth to any space.
Planting beds should also be treated as features with a mix of low and raised beds which will create an interesting landscape.
If you are using raised beds for planting, there is a variety of materials which can be used including timber and brick.
Illuminate the space
Lighting is a great way to draw attention to key features in your garden. You might want the conversation piece of an outdoor bar lit up at night, or perhaps you have a water feature which needs highlighting with lights as it's one of the main focal points of your design
You also need lighting for safety reasons and because many homeowners use their gardens on warm evenings.
Good lighting will create an atmosphere and make your garden feel like a welcoming space.
A variety of lighting can be achieved with different types of bulbs, fittings and materials (such as string lights), so it's worth getting creative to find the style that suits you best.
Minimise the cost
Modern gardens are best built with man made materials which give it the precise, clean appearance which is difficult to get from natural products. One of the main issues with this is the cost.
Porcelain paving, white rendered walls, water features and lighting don't come cheap.
You can be looking at upwards of £150 per square meter for a full renovation!
To minimise the cost we recommend decorative gravel areas in spaces which cannot be used such as the border between the paving and the house.
The general advice for this is to use expensive materials only where they are needed and minimise them everywhere else.
Make use of your DIY skills where you can, a lot of small savings can add up to a big saving.
Consider maintenance 
A prime consideration when designing any garden should be maintenance. Are you a keen gardener who is happy to spend time maintaining your outdoor space?
Or, are you more the type who wants a beautiful garden which requires little maintenance and can be left to its own devices.
The level of maintenance required will influence the design of your garden significantly.
It is important to avoid using any surfaces with a high-maintenance requirement, such as turf or low quality Indian sandstone.
Add outdoor furniture
Make your garden into welcoming space with outdoor furniture. It will give your guests a place to sit down and enjoy the space you have created for them, as well as add character to the garden.
Built in seating can be great functionally and as a feature in the garden, however it can also be extremely expensive.
When deciding on the style of outdoor furniture its good practice to consider it as part of the overall design and not just an add on or an afterthought.
Garden rooms
A garden room is a space within the garden, separate from but attached to it.
Garden rooms can be used for many purposes and they are often found in gardens that are designed as entertainment spaces or living areas where people can relax and escape from direct sunlight.
Garden rooms can be used as storage, entertaining spaces, a man cave, outdoor dining or even an Airbnb!
Whilst they don't come cheap they can dramatically enhance your home by giving you a sanctuary which is separate from the main house.
Pay attention to drainage
Our final point is practical and boring but very important.
Paying attention to garden drainage is essential to the success of a modern garden because it can quickly become a muddy mess.
If you have poor drainage in your garden already then building over the top without fixing this issue is a recipe for disaster.
Many modern gardens focus on large areas of porcelain paving which can cause some issues if runoff water is not planned properly.
In conclusion
Planning your outdoor space can be overwhelming, but the process doesn't have to be.
We hope that these expert tips will help you get started on designing and enjoying a modern garden of your own! If you are looking for more great content about design, landscaping or gardening, take some time to explore our website.
There is tons of information here to help make your project successful from start to finish.