Types of wooden fencing
Wood fencing gets is most often made up of planks and pickets. Wood is a natural material, but there are different types of woods used in fencing: softwood, hardwood and tropical hardwoods.
Softwood comes from conifer trees such as pine and spruce. Hardwoods come from deciduous trees that lose their leaves; examples are oak and beech but there are many others such as walnut and teak (a tropical hardwood).
These types of wood need treating with preservatives to stop them rotting more quickly than other woods, so you will find some pressure treated fences available on the market which makes them last longer.
Most fences are made from treated softwood and are either built on site or from panels which are made in a factory. Panels are available from 3 – 10ft height.
Types of metal fencing
Metal fences are available in lots of different styles and kinds of metal. There is the most commonly used steel which is made from iron alloyed with carbon, copper or manganese; galvanized steel also has zinc added to it for extra corrosion resistance
For garden fencing, aluminium is the most common material you will find.
Aluminium fencing is often clad in a powder coat finish – this can be either silver-grey or black, although some other colours such as red are also available.
Stainless steel will not rust and comes in many finishes but usually these tend to look matt.
Metal fencing is most commonly found is palisade style with some panel varieties available too. Metal fencing is both expensive and, well its ugly.
We would only recommend metal fencing if you have some serious security concerns which a wooden fence will not be able to handle.
Looks
Wooden fences are made using different kinds of wood and can be stained or painted to your preference.
A lot of people will paint their fences to protect them from rot and make them last longer; this is generally considered more aesthetically pleasing than metal fencing.
Pressure treated timber also results in a darker colour which is very popular as it is what most people think of when they hear 'fence'.
Wooden fencing overall offers more in the looks department, especially when the cost is considered.
Lifespan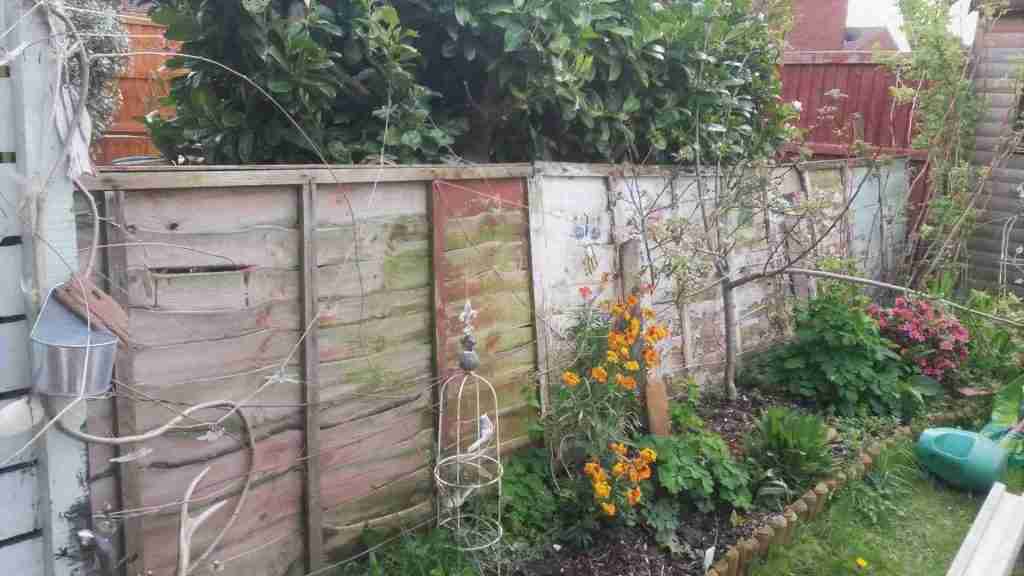 Wooden fences are made up of different styles of wood and timber, which will all have varying lives. If you are having a fence built it is best to ask for advice about what the lifespan may be before making your purchase as these can vary dramatically depending on the type of wood used.
The average lifespan for softwood fence panels is a minimum of 5 years but could last up to 20 years with good maintenance and painting/staining after construction
Hardwood fencing has been reported to last over 30 years if correctly maintained so this is something to consider too
Metal fencing should also have a good lifespan if properly maintained. Steel, Iron and aluminium fencing can last for hundreds of years without needing replacing
Environmentally friendly
For iron and steel fences the metal can be recycled so that it is not wasted which may make this option more environmentally friendly than wood.
Maintenance
As both wooden and metal fencing are fairly durable, most people will find that they do not need doing much to in order to keep them looking smart.
Metal fencing should always have regular cleaning with a wire brush (a pressure washer can help you here) to keep any dust or dirt from building up on the surface.
If you touch up all the paintwork every year then there is no reason why your fence cannot last for many years without any further work being required.
Wooden fence panels need treated with preservatives every few years and will be more prone to mould, algae and insect infestation.
Cost
Wooden or wooden/aluminium fence panels are generally cheaper than metal ones
The cost of the materials themselves is roughly equivalent but there are many hidden extras associated with installing a wooden fence which make it more expensive when you total everything up.
In general continuous wooden fencing is the easiest to install and uses the cheapest materials so it will be the cheapest in the short run.
In the long run you it may cost you less to go for a metal or hardwood fence which will require very little maintenance and last a lot longer.
It is best to do your research and get an idea of how much it will cost you in the long run if you are planning to use a wooden fence as well as the short term benefits.
Here are some cheaper alternatives to wooden fencing
Variety
Metal fencing is available in a number of different styles and colours but with its limited domestic uses and lower popularity there are relatively few to choose from and it can be hard to find stock.
Wooden fence panels comes in many varieties, including: picket, privacy, trellis and different kinds of green wood. Its also possible to mix the two materials together which gives you even more variety!
Wooden fencing is extremely popular and is available from thousands of suppliers in all shapes sizes and materials. You can build slatted fences, picket fences, close board fences and others using wood. The same cannot be said for composite fences which are more limited in styles.
Security
Both wooden and metal fencing are very secure, however there is a big difference in terms of cost.
Metal fences can be extremely expensive to have built but use the same materials as commercial high security installations so will offer excellent protection.
Wooden fence panels can also be made to order with ornate designs that look like they could stop an elephant.
Depending on what you are trying to keep out, wooden fencing should be adequate for most domestic security needs.
The only place where metal fencing could be advantageous is to stop heavy impacts and people or animals climbing over the top.
Conclusion
In conclusion, it is important to understand the different environmental impacts and benefits of wood versus metal fencing. Wood does not require as much maintenance, but can become costly if you have a large area that needs covered. It also has a shorter lifespan than metal fencing because steel, iron and aluminium will last decades without needing replaced.
On the other hand, wooden fences are available in many more shapes and varieties including picket style for privacy or trellis fence panels which offer shade from sun or snow coverage while keeping intruders out.