As landscapers we install decking on all types of ground including uneven ground. Different methods are available depending on what you mean by uneven.
If you are working on a slope then cemented in support posts would be best. If you are working on generally uneven ground you can opt to level the ground or to work from support posts. 
We go into some detail on each method below
Check out our article for laying decking directly onto soil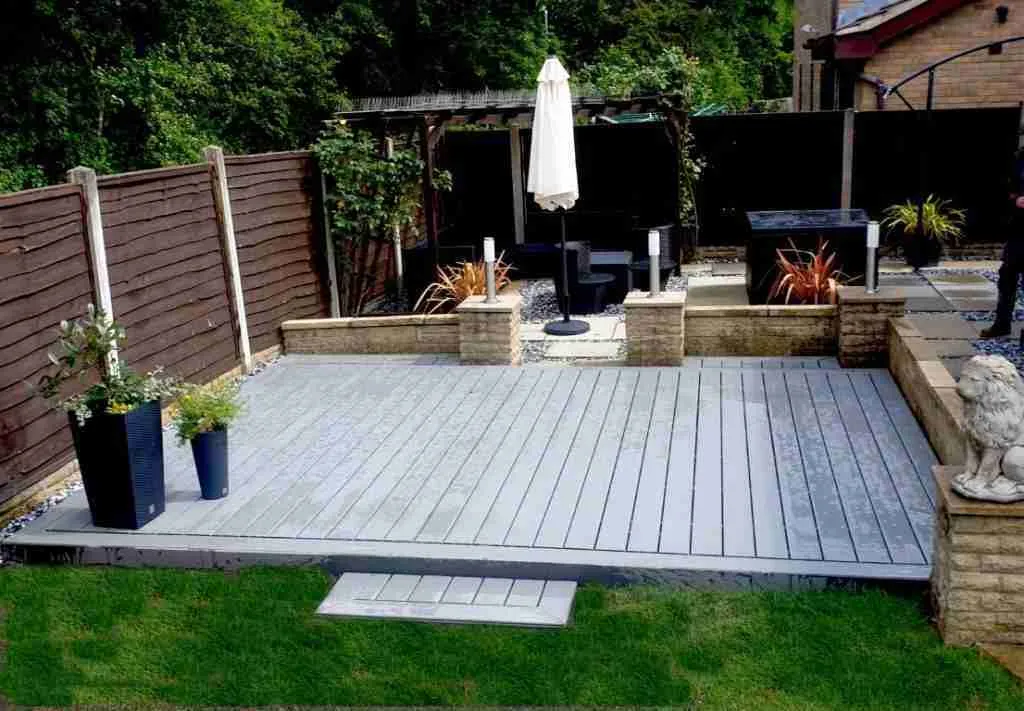 Method 1: Cemented support posts decking base
Best for: Decking on slopes or which needs elevation above 15cmDownsides: Can be hard to do if you are new to installing decking on uneven ground Here is an example of building a decking base on a slope with cemented in supports
To build a decking base on sloped uneven ground: 
Clear the area of all grass, weeds and debris using a good quality spade
Dig 1ft deep post holes 
Set the posts using post mix so that the top is at or slightly above the desired height 
Fix joists to posts at correct level using and electric screw driver and 100mm wood screws. Cut off any excess post with a hand saw.
You are now ready to install the decking frame and decking boards on a level support structure This method can also be used on generally lumpy and uneven ground to elevate the decking above the uneven surface.
Of Course you need to make sure that any edges are made safe using steps or barriers.
Method 2: Level supporting base
Best for: Low level deckingDownsides: Can require a lot of digging and shifting materials Materials: 
Type 1 MOT hardcore
Old/cheap paving slabs
Wood for frame and legs 
If you want to lay decking at ground level or slightly above but have lumpy/uneven ground this is the best method we have found to do so. 
The decking is going in front of the french doors on our example but the ground is uneven. The first thing to do is to work out what height you want the decking to be at. We will opt for the surface of the decking to be just below the lip of the doors.
Mark out the area then excavate to 200mm below where you want the surface of the decking to be.
Add and compact a 50 mm layer of type 1 MOT hardcore
Build the decking frame 
Pro tip: For quick, clean cuts use a chop saw. 
Lay out the paving slabs down the centre and along the edges of the area. These will act as solid supports to spread the weight of the decking. 
Set the decking on the slabs
Pro tip: There is a good chance that the slabs will not be even and that some parts of the decking will be too high or too low. Screw off-cuts in to add extra support and elevate the decking anywhere it is needed. 
Conclusion
You now know the basics of the two best methods for laying decking on uneven ground. We will be putting together in depth guides for all types of decking over the next few months.  If you are in the North West and would like decking professionally installed see our decking page and get in touch for a quote today