So you have been tempted in by some amazing decking but almost thrown up at the cost?
Well we are here to try and help you save some money by looking at some ways to create a nice outdoor space without the cost of decking.
This article will take you through 8 cheap and easy alternatives to decking.
Why is decking so expensive?
If you were shocked at the price for some new decking you are not alone, many people have never even considered the cost of materials and labour that goes into decking.
Composite decking starts at around £130 per square meter with higher end decking coming in at close to £200 per square meter. Wooden decking can be a little cheaper but you will still struggle to get below £100.
If you want more complex decking which is shaped, raised or includes features such as balustrades you can be looking at £300 per square meter.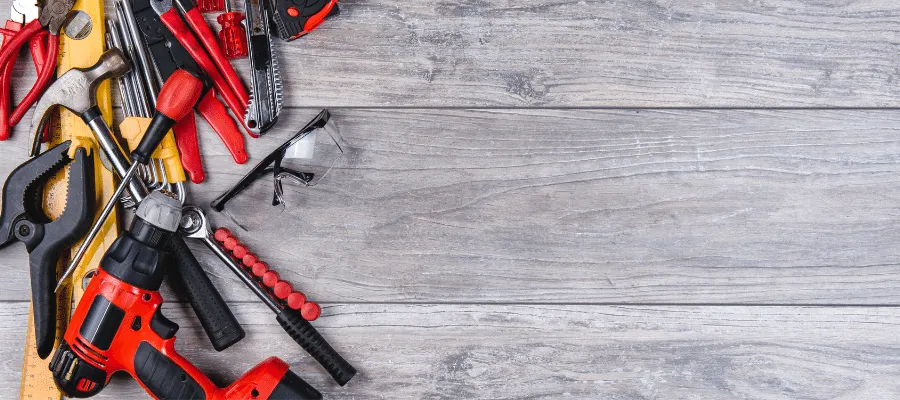 Labour costs of building decking
The labour costs of building decking are significant and this is one reason why the cost per square meter can be so high. For most decking projects the labour costs will make up the bulk of the total cost.
Chopping, shaping and sanding timber boards for example requires a skilled tradesmen with expensive equipment. For decking with light seating and other features, like balustrades, you need to factor in other specialist costs too.
Materials costs of building decking
The decking planks, frame and base all need to be able to withstand impact and weathering. This means that decking materials need to be high quality which also means the cost goes up.
Cheap decking will often be cheap because it is made from poor quality materials which will wear out more quickly.
Cheaper alternatives to decking
If you are looking for a ground level area for outdoor dining there are various alternatives to decking which may be able to service your needs. Read the next 8 suggestions with an open mind
1. Gravel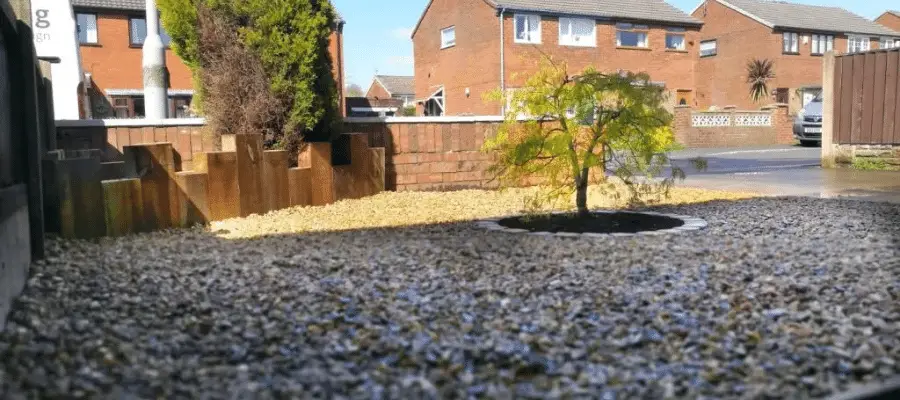 Most people don't consider gravel as an option but it can be a good alternative. It is cheap and doesn't need any fancy installation. The main downside with gravel is that its soft which can make it inconvenient for garden furniture and walking.
However there are solutions which can make it more usable surface. Gravel grid systems are plastic or fabric mesh which hold the gravel in place to make to more firm and effectively create a solid surface as the gravel compacts.
If you combine gravel grid systems with pea gravel you will get a surface that is good enough to sit on, place furniture and walk on.
This is a super cheap and easy option to make a nice space.
2. Paving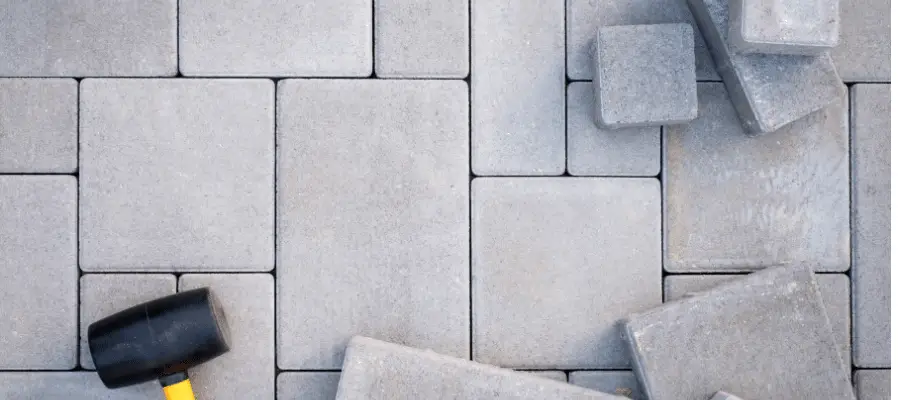 Most paving will come in at around the same cost as decking however you can make this much cheaper if you are willing to go for concrete paving.
Concrete paving slabs are cheap and they can be laid on a thin sand base which hugely reduces the cost of installation.
Concrete or shaped paving laid on a sand base can be a good alternative to decking for more reasons that just cost too. Check out our useful article comparing the pros and cons of decking vs paving.
3. Rubber mats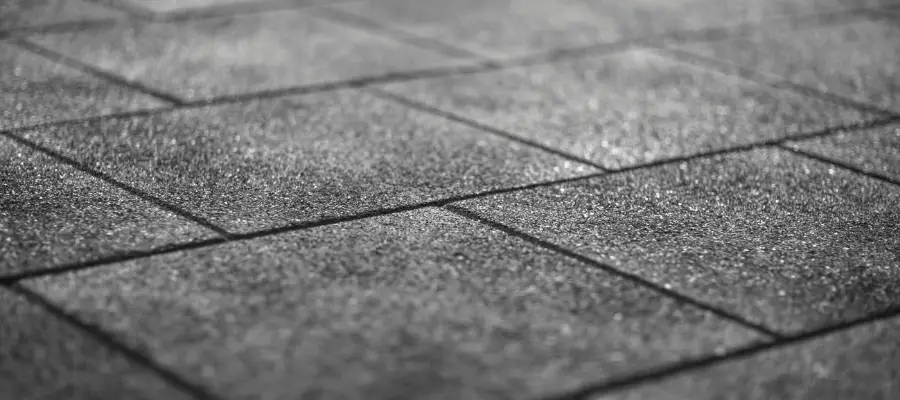 Similar to paving but actually easier to install is rubber matting. These are specialised rubber mats usually used for play areas and come in a variety of different thicknesses.
You wont find many other surfaces which are as easy and cheap to install and although they don't have the sleek looks of composite decking they do create a stable and durable surface.
4. Poured concrete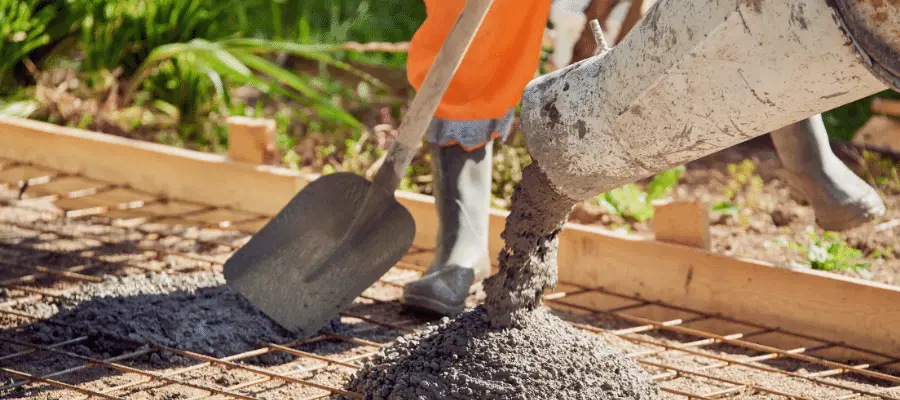 You may have seen (or own) pattern imprinted concrete.
This is a type of poured concrete which has been left to set and then imprinted with geometric patterns.
Unlike decking this can be done on any surface from grass, gravel or stone paving.
Poured concrete also allows you the opportunity to add in some colour if that's something you want, it can also conform to almost any shape.
Poured concrete will still be on the more expensive end of the alternatives to decking but should come in cheaper overall.
5. Pallet decking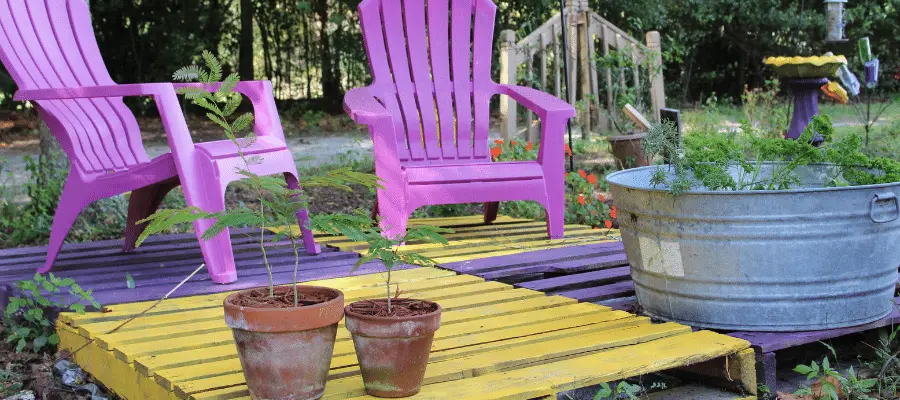 Pallet decking is a really cheap way to get decking and can look great. Essentially you just use preconstructed pallets from a builders yard to form the base of the decking then add some boards on top.
Each pallet can provide enough material for at least one square metre of decking so all you need to do is lay them out on a stable base of gravel, screw them together and attach the boards on top.
Pallet decks can be very easy to install and don't take much time or skill.
Be warned that pallet decking will generally not be as stable or as long lasting as professionally made decking.
Pallet decks will also not last as long if they are exposed to rain, snow and hot sun for extended periods of time.
The pallet boards can warp or break more easily than other types of material so care must be taken when building a deck out of them.
6. Bark chippings
Bark chippings are not usually seen as a good surface for a seating or dining area however they can be a cheaper alternative to decking.
Bark chippings are not as expensive or time consuming when compared with other types of ground cover so they may work for you if your budget is limited and you're on the lookout for an easy do-it-yourself project that requires little skill.
7. Self binding gravel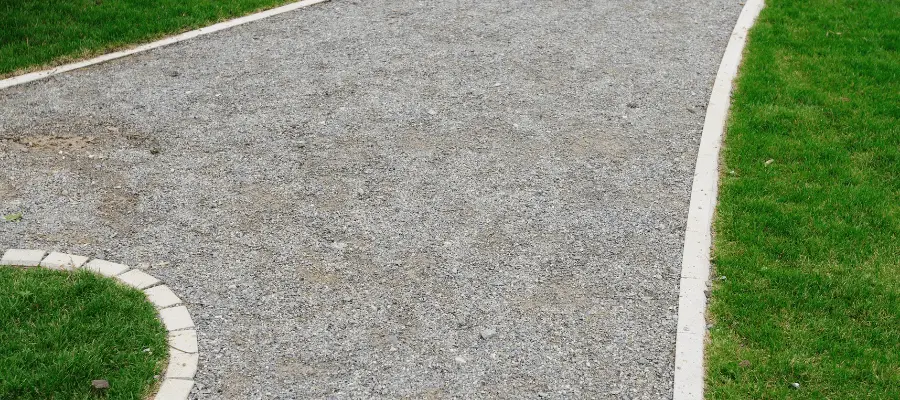 Self-binding gravels are commonly used for woodland paths and similar applications.
Self binding gravel can be a good alternative to decking as it creates a solid surface and takes almost no time to install.
Self binding gravel is essentially normal gravel with finer dust particles added. This means that when compacted and when moisture is added the surface will bind the individual particles together.
The downsides of self binding gravel are its hardness on the feet, tendency to product dust in very dry weather and the fact that visually it is not very appealing.
When walking on the surface, people can feel every pebble beneath their feet which is not ideal for a living area or if you have an elderly relative who may be unsteady on their feet and needs to walk up some stairs.
That being said, it is a cheap and quick way to have a surface which can withstand heavy traffic.
8. DIY decking kits
Our final entry is the DIY decking kits which are perfect for someone who has some carpentry experience or at the very least is handy.
kits come with a detailed instruction manual and all of the materials to make your own decking surface.
They cost only marginally more than just buying the raw materials and will give you a professional finish without much need for precise cutting or heavy lifting.
Decking kits come in generic designs and fixed sizes so if you are looking for a simple area of decking then a kit could save you thousands. See our helpful guide to laying decking to make sure you don't make any mistakes!
If you are looking for something more complex or the decking would need to be cut into a complex shape then its unlikely this option will work for you.
In conclusion
Cost is a major consideration when it comes to decking installation.
The labour involved in the process can be expensive, as well as the materials that go into building the deck itself.
This blog post has covered some cheaper alternatives to decking which can save you thousands and still leave you with a great space to enjoy the summer.
If you are still not sure what option to go for or are between composite and wooden decking then check out our breakdown of composite decking and whether its a good idea for you.