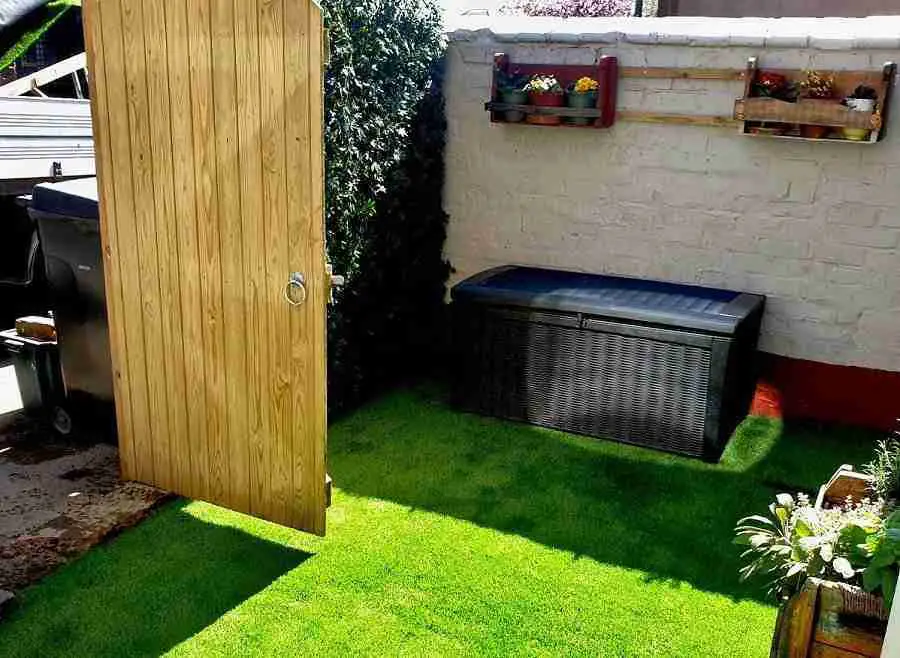 Artificial grass can be a great way to improve a hard area in your garden. Artificial turf has a long lifespan and  needs very little maintenance compared to a regular lawn.
Many people choose to cover their driveways, patios and other hard areas in artificial grass. 
If you have moved into a house with a concrete driveway or a large patch of concrete in the back you may want to transform it into something softer without having to remove it.
As a disclaimer, installing using this method is cheap, easy and anyone can do it but it will not be as soft or as well drained as professionally installed artificial grass.
Step by step guide
This article covers the basic steps to lay artificial grass on concrete, make sure to check out the other sections to avoid common mistakes.
Here is the key information you need to lay your artificial grass on top of concrete.
Pro tip: if you are using foam underlay, don't do it on a windy day
Artificial grass tools
Artificial grass Materials
Step 1: Prepare the surface
The artificial grass or foam underlay will need to have a decent bond with the concrete surface. Any sand, grit or debris will interfere with this bond and could mean your fake grass will move around and crease after being laid.
Clean off any dirt with a hose, brush or power wash then leave to dry.
Artificial grass need to be able to drain or it will end up a large sponge which soaks anything it touches. Drill holes through the concrete surface using a masonry drill bit and fill them with large pebbles to allow water to get to the permeable layers beneath the concrete.
The number of holes you will need will depend on how the water currently drains. For example, water which pools in one area may just need one or two holes in that specific area.
Make sure the surface is completely dry before moving on to the next stage.
Step 2: Install the underlay (optional)
We recommend that customers always install underlay when laying artificial grass on concrete. However, depending on what you want to use it for, it may be an unnecessary expense.  
Foam underlay will make slightly uneven surfaces level and soft to the touch. If children are going to be using the area, or you are going to play sports on it, underlay is a must.
If you are not planning on using it much then you may get away without it if the surface is level enough.
Roll out the underlay starting from the corner. You should always start from the corner farthest away from where you want to be when you are finished.
Lay the foam in position before gluing and cutting. It's a classic mistake to fix the underlay in place only to discover that it's wrong. Get everything laid out before cutting and gluing in place or you may end up with time/money consuming changes to make.
Cut to the correct size/ shape. Using scissors or a Stanley knife, cut the foam to it fits flush with the edges of the area and inside. If you find it wants to move around you can use duct tape to hold the pieces together.
Glue in place. Using water resistant adhesive, glue the foam to the ground. We find that using tubed adhesive with a good zig-zag covering keeps it in place well. This method also allowed ample space for water to drain through the underlay.
Step 3: Install the grass
As with the underlay, the best practice is to lay the grass out where it will go before cutting or gluing. Make sure the underlay is fixed in place so that it doesn't move around. To be sure it's going to hold you will need the right type of artificial grass adhesive.
Glue the edges which don't need cut. If your fake grass fits flush with an edge, it is advisable to glue this area first and work from there.
Cut the rest to shape. When you are sure that it all fits nicely it's time to cut it to shape.
This can be harder than it sounds as it's not always easy to cut. Err on the side of caution and leave a little too much which can then be trimmed or tucked under.
Stick down the joints. As you work backwards you should stick down the joints that you come to. Do this by cutting a strip of joint tape the length of the joint.
Cover the joint tape with adhesive using a generous application (no need to completely cover, its strong stuff). The joint tape should be half stuck to one sheet and haft to the other, all the way along the underside of the joint. Make sure its flush.
Make sure to pull it tight. You want the artificial grass to be flush and smooth. To achieve this you may need to go back over it again before the adhesive dries. Make sure to flatten out all the creases and cut off as much excess as possible.
Step 4: Brush and sand
Most artificial grass is stored in roles so it will be flattened down when you get it. To perk it up again use a stiff bristled broom to push the fibres into the upright position.
Sand is optional. Some people like to use it because it protects the artificial lawn from a little damage and reduces the amount of heat it absorbs in summer. Others don't like to use it because, well, its sand. And it gets everywhere.
Reasons to cover your concrete with artificial grass
IT looks better
Too much concrete can create a drab, depressing environment. Artificial grass can introduce a feeling of life and vibrancy with its bright evergreen impact.
It's not slippy
Concrete and other hard surfaces can get slippy with ice, algae, moss or mud build up. Other than constant maintenance, there is not much that can be done about this.
Artificial grass can save the day here as a non slip surface. 
Its low maintenance
Artificial grass does require some care but this is limited to brushing, keeping it clean and  avoiding damaging it with furniture or substances.
Easy and cheap
When looking to improve or alter your concrete there are a few options such as getting rid of it, covering it with paving or other outdoor coverings.
These options can work but they all fall short of artificial grass in either, looks, price or time consumed to install.
Artificial grass is surprisingly cheap to buy and fast to install . It needs no setting time and does not need large amount of manual labour to install… providing you have the right base.
Things to think about before laying artificial grass on concrete
The right type of concrete base for artificial grass
Flat concrete bases can work very well with artificial grass and give the surface a long life however there can be some problems when it comes to level and drainage.
Some of our artificial grass customers in Preston want to use it to cover concrete which is past its sell-by-date. Its cracked, chinks are missing and it is becoming uneven. This type of surface is not suitable as a base. Its likely to move around and become more uneven which with show in the artificial grass covering.
The best thing to do in this situation is to get rid of the old surface and start from scratch.
Surfaces with small imperfections are ok, they will be evened out by the artificial grass underlay. Some more damaged surfaces may need to be fixed. For moderate holes and cracks you can use exterior filler to smooth them out. For deeper holes you can use ready mix concrete to plug them.
Artificial grass drainage on concrete
If your concrete had puddles forming on it, it's likely that your new fake lawn will as well. Make sure there is a plan for drainage before installing your surface layers.
Drainage can be improved in a number of ways but it really depends on the surface. If you have flat concrete with one or two areas that pool it can be a good idea to drill holes through the concrete to let the water drain into the soil below.
Make sure to use the correct drill bits and drill deep enough to allow water through
Edging
Artificial grass sits on a sand base which makes it soft and improves drainage. The primary downside to having a sand base is that it needs to be contained. 
Make sure you have a hard edge in place to contain the sand base of the artificial grass. If it is up against a wall or some paving, this will do the job. If not, you will need to install the correct edging for your specific artificial grass installation. 
Conclusion
Artificial grass can spice up a drab price of concrete or tired old paving. For a relatively low cost you can create a nice area to enjoy in the warmer months.
If you decide that you would rather have a professional install your artificial grass, please get in touch. Acorn Gardening are experts in creating low maintenance gardens.