Artificial grass is in this year and for good reason. Its low maintenance, looks great and can last for years. But to make sure it's the lush green lawn you want and not an irritating series of issues your artificial grass needs to be installed right and properly cared for. 
Proper installation always includes good solid edging to make sure the base is supported well and stays in place.
Artificial grass needs an edge on all sides to make sure the base can remain compacted. Edges should be solid and provide support for the sand base.
The best artificial grass edging is block or brick edging followed by hidden wooden framing and finally metal edging. 
Artificial grass edging comparison table

Best artificial grass edging for quality is always block Stones or some hard edge made from a non-degradable material. However, overall we think plastic lumber edging gives the best value for money and offers easy installation. 
Why you need edging for artificial grass
Not everyone will need edging for their artificial grass. The purpose of edging is to create a hard border which can contain the sand foundation of the artificial grass.
If the artificial grass is going right up against some paving or a wall then you won't need to add any edging. The edging can also act as something to attach the edges of the grass to using artificial grass adhesive or screws.
To understand whether you need to install additional edging for artificial grass it's a good idea to understand how the base for artificial grass works.
The base will be made of compacted hardcore and compacted grit sand.  Neither of the base materials are bound together in the same way that concrete is.
The main reasons are to make it soft and for safety. Because artificial grass is frequently used as an area for playing or chilling out it's good for it to be soft like a normal lawn.
The sand base can move around slightly when people walk or sit on the artificial grass.  As long as the sand is contained at the edges the amount of movement will be limited and the base will remain firm.  
If you were pressing down on an edge which is not supported the sand will move into this space.  Over time this would undermine the artificial grass and result in an uneven or bumpy surface.
Without a solid Edge your artificial grass will eventually lose Its shape and firmness. Good edging can increase the lifespan of artificial grass. 
Types of edging for artificial grass
Artificial grass edging falls into three main categories; hard edging, flexible edging and hidden edging.  Each has its advantages and disadvantages and each will fit the tastes of some people and not others.
Hard edging
Hard edging is generally edging which you can see and is cemented or fixed in place.  hard edging could be called a feature as it includes things like block Stones, Paving and sleepers.
Paving 
If you have paving surrounding the artificial grass this can work perfectly as a hard edge.  The exception to this is if you have paving set on a sand base. 
In this case you may need to add a block stone border or another type of Edge to support the artificial grass.
Block stones 
Block stone or Brick borders are simply a row of blocks set in a concrete Foundation.
They can provide an edge for paving or between two soft surfaces such as artificial grass and a planting bed. Not only do block stone borders look great but they will last for years and are extremely hard-wearing.
Sleepers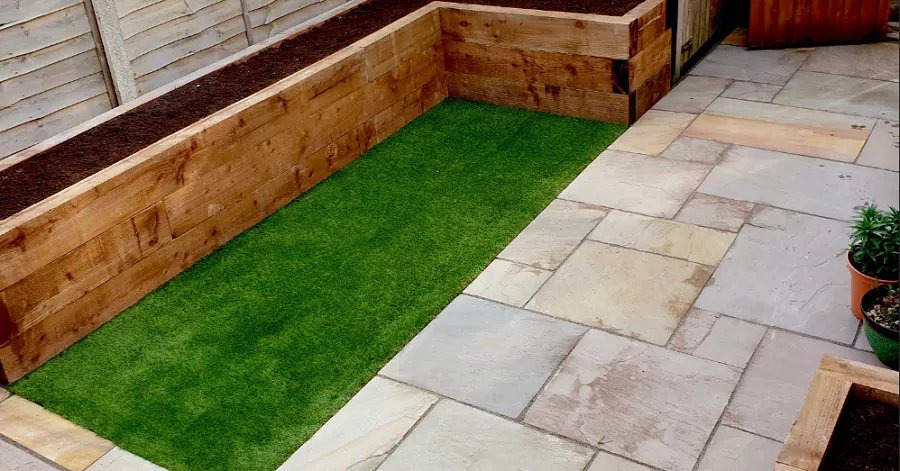 Another extremely popular edging material are pressure-treated sleepers.  they can be used to create tiered Gardens and raised planting beds as well as acting as a solid border for your artificial grass. 
If you are installing your artificial grass on concrete you will want to steer clear of sleepers as they can be very difficult to install on a concrete base. 
Flexible edging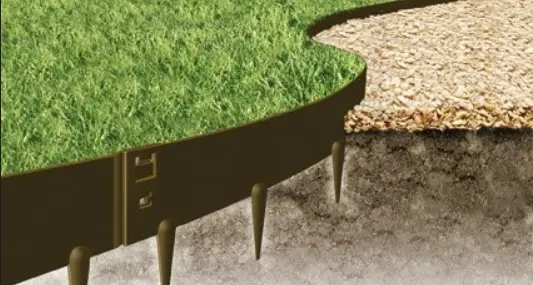 Flexible edging is a relatively new product. It is quick to install and is frequently used to edge lawns and artificial grass areas. 
Flexible edging is  primarily made from plastic or metal which means it has an extremely long life span.
We would only recommend using flexible edging 4 areas which need to be curved and you don't want a visible border such a block stone border. 
We don't recommend flexible edging because it has some significant downsides.
The border it creates is often too flimsy and can come loose with minimal wear and tear. It also needs ideal ground conditions to be held upright.  We have occasionally resorted to cementing in the flexible borders despite the manufacturers promising this is not necessary.
Hidden edging
Hidden edging for artificial grass is a pressure treated timber or plastic longer border which runs around the perimeter of the artificial grass. The artificial grass will be screwed or stapled into the  hidden edging which holds it firm.
A hidden border isn't essential for artificial grass installations but it does offer a better finish. Better quality artificial grass installations will use a hidden border even if there is a solid border. 
The primary reason to use a hidden border is that it can be an anchor point for the edges of the artificial grass. 
Pressure treated timber 
Pressure treated timber is easy to work with and despite being in the ground has a lifespan of over 10 years.  it can be used to create a sturdy and stable border which can work with most existing garden features.
Plastic lumber
Plastic lumber is a little more expensive than pressure treated timber but it has a lifespan of over 20 years.  it is generally easy to work with although the quality can vary. 
We generally recommend using a hidden plastic lumber edge around the whole perimeter of the artificial grass regardless of what's there already. 
A plastic lumber edge will hold down the artificial grass securely and will be resistant to both wear and rot. 
Conclusion
When artificial grass gets damaged it can be really difficult to fix.  Having good edging will help prevent damage and prolong the lifespan of your artificial lawn. 
If you can afford it and it suits your style, we recommend one of the harder boards such as sleepers or block stones.  If you're looking for an invisible border then we suggest pressure treated timber or plastic Lumber.  If you need your artificial grass to work around a curve and have an invisible edge then use the metal edging.