Artificial grass is a great way to make your back garden look like a professionally landscaped oasis. However, many people cannot afford the cost of artificial grass installation.
This blog post will explore Six affordable alternatives to artificial grass that you can use in your garden to make it a low maintenance paradise without the price tag.
Why is artificial grass so expensive?
If you were shocked at the price for some new artificial grass, don't worry: many people have never even considered how much materials and labour go into it.
With prices starting around £55 per square meter with higher end artificial grass coming in close to £120 per square meter, it's not something that everyone can afford.
Gravel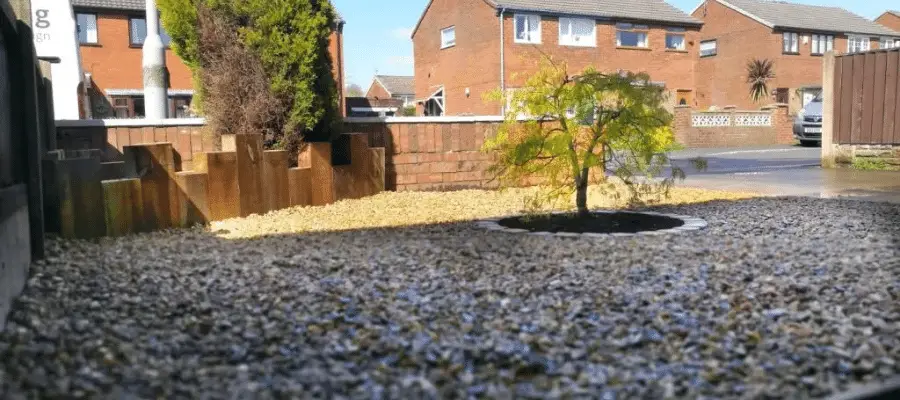 Gravel is widely overlooked as a surface for patios or garden areas but it has many advantages over other surfaces.
Gravel can be inexpensive and easy to install, without the need of expensive equipment that some other materials require.
The downside is that gravel does not provide much traction so furniture may slide around if placed on top of this material and walking can also feel slippery at times because there's no give with such a soft texture beneath your feet.
There are ways though to overcome these negative characteristics while still benefiting from all the positives by installing gravel grids which hold it in place and make this collection of little stones feel more like a hard surface.
Gravel also comes in a huge variety of colours, textures and patterns that make it a more attractive option for landscaping. See out full comparison of artificial grass and gravel.
Self binding gravel
Self binding gravel is a great alternative to artificial grass as it creates a solid surface and takes almost no time to install.
Self binding gravel can be added during the construction phase of most projects, making this an easy way for contractors or homeowners alike to save money on their next project by not having replace existing materials with new ones!
The surface of self-binding gravel can be a little hard on the feet if you are used to softer surfaces, but it is very cost effective and fast. It also produces dust in dry weather which may not be ideal for those with allergies or asthma problems.
Pallet decking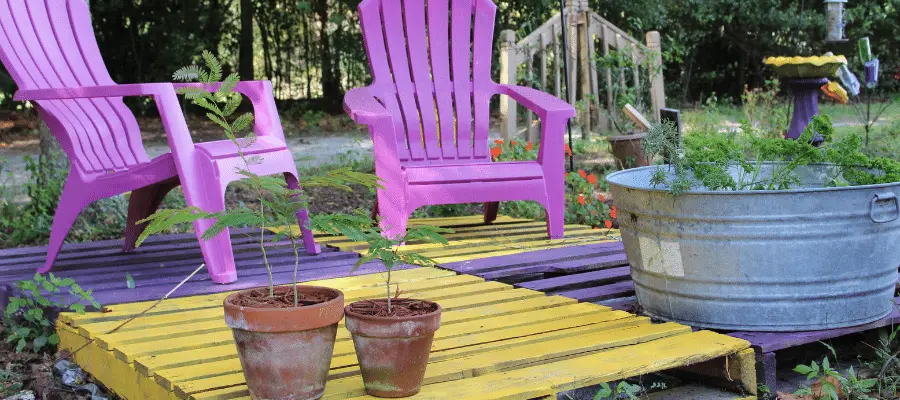 Pallet decking is a great option for people looking to make a cheap alternative to more expensive construction materials like wood or even artificial grass.
Each pallet provides enough material for a square meter of decking so all you need to do is lay them out on a stable base, screw them together, and attach the boards on top.
Pallet decks require minimal installation and are a great option for DIYers.
Pallet decking will not be as durable or stable as other types of decking, but the price is much cheaper.
Pallet decks are a cheaper alternative to artificial grass, but they will not last as long if exposed to rain, snow or hot sun.
Pallet boards are often used as a cheaper alternative to building decking, but pallets can break or warp more easily than other materials.
Bark chippings
Bark chippings are not usually seen as a good surface for seating or dining areas. But if you've been looking around and can't find the perfect solution, bark may be an easy do-it-yourself project that requires little skill. And it's cheaper too!
Play bark is made from high quality hardwood chipping which create a lighter, soft but stable surface usually favoured by play ground areas.
Turf
An obvious cheaper alternative to artificial grass is turf.
You may be considering artificial grass as a replacement for your current lawn however there are a few advantages to turf which you should consider.
Artificial grass effectively created a desert for insects and ground dwelling animals. Turf, on the other hand, is much more eco-friendly and will not hinder wildlife habitats or raise your electric bill!
Turf also has a much shorter installation period than artificial grass and can be installed by you with less time invested in the project.
Natural turf also hold water and releases it back into the atmosphere whereas, artificial grass allows water to drain through it quickly which can contribute to flooding and poor drainage in the local area.
Wildflower garden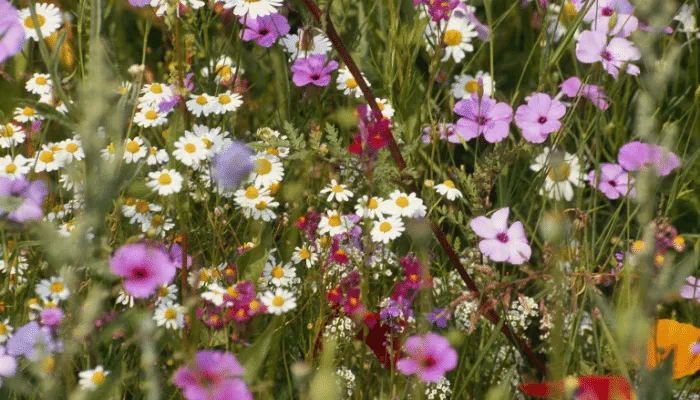 If you are keen to keep it natural and don't mind of you cant use the area often you could opt for a wildflower garden. This is perfect for bees and other insects to thrive in.
You simply plant the wildflower seed mix and let it grow. Every year you will get seasonal blooms which the bees and insects love.
The seeds are quite affordable but will need some maintenance such as top-dressing with compost, weed control and mulching to keep the plants looking good.
This is a really low cost alternative that has very little upkeep required yet looks amazing!
Conclusion
There are many affordable alternatives to artificial grass. Gravel is one of the most popular, and it can be applied in a variety of ways.
Self binding gravel has pieces that will bind together if you're working on sloped ground or need to create an incline for wheelchairs or bikes.
Pallet decking is another great option when you want something without any seams. Bark chippings provide texture and make your lawn look more natural than other options like turf which may not grow well with your environment.
If you have wildflowers around, then why not use them? You could plant wildflower gardens instead of using traditional landscaping materials!