Artifical grass which looks great and goes the distance
From astro turf to artificial lawns
Preston and surrounding areas
Artificial Grass installation Service
We can help you transform your garden with an artificial grass area. For the kids to play, for the dog or for you, artificial grass is a great way to create a soft area and add some green to your garden. 
We use knowledge and skill built over years of experience to bring you beautiful, long lasting artificial lawn. Whatever your current garden surface we can lay artificial grass on concrete, soil or any other material. 
If you want fake grass on its own or as part of a large project our project manger will work with you to make sure everything fits seamlessly. 
We take on artificial grass jobs of all sizes in the Preston area 
We have a straightforward process for artificial grass bookings
Get in touch via our contact form, by phone or email. We will ask a few questions about the work you are after and get back. Then we send you back an estimate of what the artificial grass could cost. It will look something like this "we estimate for the work you have specified the cost would be between £xxx and £xxx".

One of our friendly staff will come to take a look at the area, talk through the requirements and give you an accurate quote in writing. We also work out when the work can be done and how long it will take.

The artificial grass will be installed by a team of our skilled landscape gardeners.
Our prices will vary depending on your requirements. For example, if you want unique or extremely high quality artificial grass the additional cost would be added to the quoted price.
Work out what your artificial grass is likely to cost with our landscape gardening cost calculator. We use this to price most jobs so it will give you a good idea of the cost.
Payment
Payment for our artificial grass services can be taken in cash, bank transfer, card or bank card.
We accept up front payments or instalments. Size and frequency of instalments vary depending on the type of work undertaken.
We typically ask for 10% deposit 7 days before the work is due to start. We agree payment plans for the remainder which can be on completion (for smaller work under £1000) or in stages (for larger work).
How soon can the work be done?
We always try to complete work for our customers as soon as possible after booking. However, as a reputable landscape gardening company we often find ourselves fully booked for 3 months or more.
The demand for artificial grass in Preston increases from January, all the way through to September. With more than 10 times time demand in the summer months. To be fair to our customers, we have to work on a first come first served basis.
To avoid disappointment we advise booking as far in advance as possible.
What if the work isn't good quality
Our Preston based artificial grass installers are highly skilled and always produce high quality results. We are so confident of this that if anything goes wrong which is our fault, we promise to fix it free of charge.
If unforeseen circumstances cause things to go wrong we will work with you to get to the best solution.
We never take on work that we are not confident we can complete to a high standard. You can be sure that if we take on a job for you, we will complete it to a high standard.
What if i change my mind about what i want?
As long as we have not begun the purchase of materials or labour on the job, you can change your mind about what you want. We want you to be as happy as possible with our work so we always try to accommodate all your requests.
Reliable and Professional
There are a lot of cow boys out there who do what they want when they want.  That's not us. We take things seriously and do what we say when we say. So you don't have to worry about a thing. 
Guaranteed quality workmanship
We are professional landscape gardeners who care about our reputation.
We aim to please good customers. So if it turns out something is wrong with our work we will come back and fix it free of charge.
Save money
Our artificial grass suppliers are chosen from years of experience.
We choose builders merchants which provide top quality at far lower prices than most retailers. These savings are then passed on to you
Recent Artificial Grass Posts
Complete guide to Choosing Artificial Grass
this guide is here to answer your questions and makes sure you are getting the right artificial grass for you. It is split into four sections. 
Section 1. Artificial grass vs real grass, pros and cons
Section 2. Choosing the right artificial grass 
Section 3. Laying artificial grass on concrete, soil and other surfaces
Section 4. Artificial grass for dogs
Section 1: Artificial grass vs real grass, Pros and cons
As a surface, artificial grass is becoming more popular by the year. This is following a growing trend of low maintenance gardens. however , It is still nowhere near as popular as traditional turf.
By knowing a little bit more about how an artificial lawn compares to a real lawn you will be in a better place to make a decision on which one is right for you.
This section compares real and fake grass on 8 key areas. There is no definitive answer as to which is better, real grass will work best for some and artificial grass for others. It depends what you give the highest priority. Read on to find out which is the best choice for you. 
Winner: It's a draw
Appearance is one of the things that held artificial grass back for years. It use to be obvious that it wasn't the real deal. It had a pretend look that wasn't popular.
In the last few years artificial grass has become WAY BETTER.
The variety and the quality has grown substantially. It's now possible to get artificial grass that is very hard to tell apart from a well maintained real lawn. We still don't think there is anything that looks exactly alike but it's getting very close.
Artificial grass is supposed to imitate real grass. This is obvious but there is a point to note here: Good artificial grass will imitate a perfect lawn which is actually quite hard to achieve consistently with real turf.
So although a perfect lawn will alway look more real than the best imitation grass you may not be able to keep a lawn looking that perfect. For this reason we think its a tie between the two.
If you have the ability to keep a perfect lawn then the real thing will look better. If not, artificial grass may leave you with a nicer looking garden.
Winner: Artificial grass (if you go with foam underlay)
There are two things to consider when looking at how good artificial grass will feel compared to real grass.
Feel of the grass itself. We mean the actual blades/strands of grass. Fake grass comes in all types of thickness and texture. Generally speaking you will have to pay more for softer artificial grass because the plastic has to be of higher quality. There are very soft feel fake grass variants available now which we think feel nicer than real grass.

Sponginess of the grass. This has more to do with the sub base the grass is set on. Artificial grass is most commonly laid on a sand base which means there is some give when you walk on it but it's no better than the soil base of real grass. A new development has been foam underlay. This means placing a layer of robust foam under your artificial grass. It gets a super soft feel which is fantastic.
Overall we think its a draw unless you opt for foam underlay with your artificial grass.  
Winner: Artificial grass
By strength we mean the ability to hold its shape under some wear a tear. Artificial grass is available in super tough varieties which can be matched by real grass. However, tough fake grass is usually rough due to its thicker fibers. A sacrifice some may not want to make.
Generally, artificial grass will stand up to punishment better than real grass. But there is an obvious drawback here. Real grass can heal itself a be repaired in patches. Artificial grass has no such ability. If it's likely that the grass will get punctured with chair legs or other objects it may be better to go for real grass.
Overall we have to give this one to artificial grass. It's way more durable.
lifespan
Winner: Real grass
Artificial grass can last up to 20 years depending on quality and usage.
Real lawns can last indefinitely if are looked after properly.
Cost to install
Winner: Real grass
Artificial grass is substantially more expensive both to buy and to install. Real grass uses compost and turf which are both very cheap, even to great quality. 
Artificial grass needs to be laid on compacted hardcore covered by sharp sand. Its laying process is also more difficult because it's harder to move and to cut large sheets. Follow this link to see our prices for turf and artificial grass.
Difficulty of installation
Winner: Real grass (much easier)
Artificial grass is slightly more difficult to install than turf due to its heavier materials. This will be reflected in the both the cost of installation and the time it takes.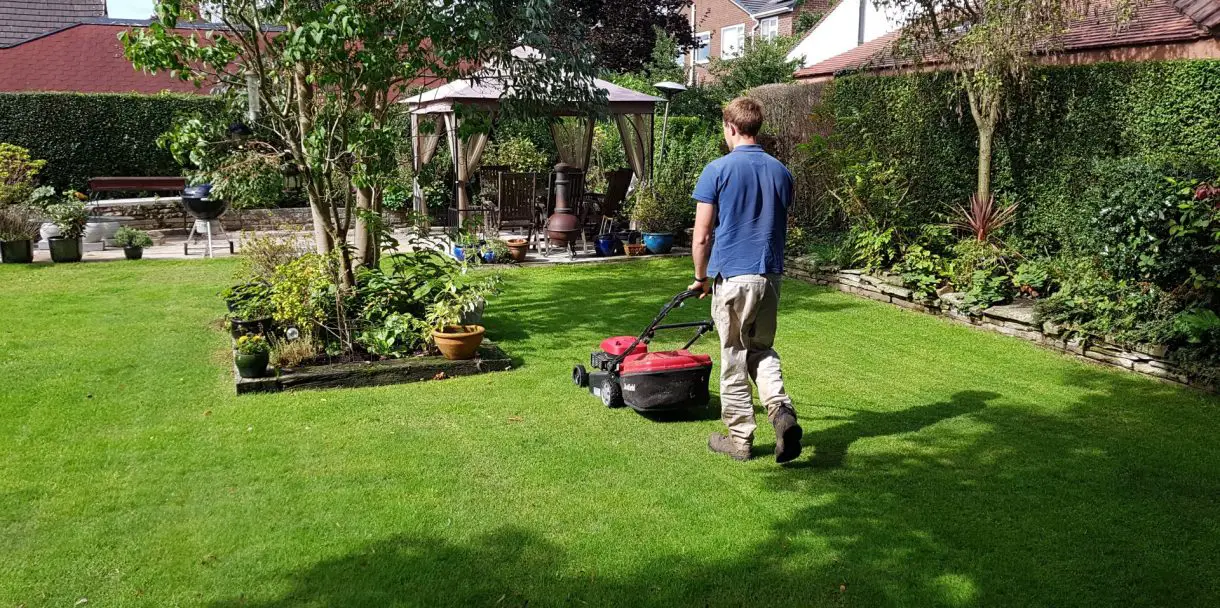 Cost to maintain
Winner: Artificial grass
Artificial grass needs little to no maintenance over its lifespan. It may need the occasional brush with a stiff broom to fluff up the fibres and level out the underlying sand but that's about it.
As i'm sure you know, real grass needs regular cutting, weed treatment, and fertilising. Ignore it and it will turn into a jungle.
If you compared the two over 20 years, the cost of real grass in time, effort and money far exceeds the cost of artificial grass. If you value your time, artificial grass may be the sensible choice for long term savings.
Summary
There is no one size fits all answer to the question: Should i go with real grass or fake grass?
It depends entirely on your preferences and what you want to get from it or use it for. They can both look equally good although a real lawn is harder to upkeep. Artificial grass will put up with more wear and tear but can't be fixed it it is damaged. Real grass will last indefinitely but is easier to damage short term.
With foam underlay, artificial grass can feel like a soft mattress and be a joy to use. However, if you are environmentally conscious real grass has many benefits over artificial grass.
When it comes to cost real grass is far cheaper to install but will cost a lot more in the long term. Over a 20 year period its most likely going to be cheaper to go with artificial grass.
Section 2: Choosing the right artificial grass
A quick search on google will reveal a vast range of options for artificial grass. This can make it fairly hard to know what to choose. All artificial grass is not made equal and quality varies hugely. To avoid getting stung you need to know what you are looking for. You don't need to be an expert but some knowledge is essential. This section gives you enough knowledge to filter out the rubbish when it comes to purchasing. 
When thinking about artificial grass there are some key attributes you should be paying attention to before buying. There are 8 key points which we think are important to make sure you get the best fake grass for you. 
1. What will you use it for?
How you intend to use your artificial lawn should influence the type of artificial grass you go for.
Artificial grass fibres can be made of three different materials. They all differ in softness, durability and price.
To make the best choice it's worth understanding the basic differences between the types.
Nylon
Used for high traffic areas, nylon grass us the toughest of all the types. It is highly heat resistant and will not lose its shape. There is all ways a tradeoff between feel and durability. If you go for nylon grass you will be leaning more toward durability.
Polyethylene
The most lifelike of the materials available. If you are looking for a synthetic answer to real grass this should probably be your first choice. Its ideal for sports, play, pets and even picnics. Despite its "real feel" it is durable and requires little to no attention after being laid.
Polypropylene
Without beating around the bush, polypropylene grass only really has one selling point, cost. In terms of look and feel it is reasonable. Giving a real look and a soft touch. Durability is where this fake grass type falls down. It has a low melting point and will not last under heavy use.
Some manufacturers use combined fibres in their plastic grass, giving some of the attributes of each type.
Think about what you want your artificial grass to be used for, if you are making a long-term investment and how good you want it to look.
Cheaper is usually worse. This is not always true but it mostly is. As with most landscape gardening materials, in the long run, its best pay a little extra to get something that will last.
2. Artificial grass that fits with the garden
Artificial grass is available in many different colours with variations of brown and green in them. It also comes in many lengths.
All colours are not created equally.  if you go for something too green your lawn may end up looking like a mini golf range or a school astroturf. If you go for something too brown or too long it could look dead or like it needs a trim.
It's hard to tell when looking at it online so it may be worth ordering a few samples or going to see some at the local DIY shop.  
Something that is always advertised on the label is pile density. This is the number of fibres or stitches per square meter.
Pile density is important for two reasons. (1) higher pile density artificial grass will be harder wearing. (2) The higher the pile density the better it will look. Low pile density may look flat and thin, not giving the look of a luscious lawn that you wanted.
Higher pile density comes with a higher cost so consider how it will be viewed. If it will be highly visible you may want to go for a high pile density of 20,000 – 30,000 stitches per square meter.
Most gardens which have a small amount of use should go for 15,000 – 20,000 stitches per square meter. This generally looks really nice and is a standard pile density so it doesn't cost too much.
Pile height depends on preference and use. Shorter pile heights of 15-25mm will look very short but this may be ideal for sports or golf. Shorter pile artificial grass is also easier to clean.
Medium length pile of 25 – 30mm will give you a freshly cut lawn look.
30 – 40mm long pile will give a natural look and can be quite soft and nice to the touch.
Artificial grass fibres do not have the structure of real grass so anything longer than 40mm will lean. This gives the lawn an uneven, matted look.
All artificial grass is harder wearing than natural grass. However, there are a few things relating to durability that you should think about before you buy. 
Usage

has been covered above but if you are planning of heavy use such as children playing or sports then you should go for the tougher materials. 

UV resistance

is one area where artificial grass loses to the real stuff is its reaction to the sun. All artificial grass will degrade over time due to UV. However, there are many types which give up to 25 years with no visible discolouration from UV. It's a good idea to check because some cheaper ones will fade within a year or two.

Spills

Food, dog mess and other things like this shouldn't damage the grass, however, to avoid it getting stuck in the fibres, spills should be cleaned up quickly.

Chemicals

. All three artificial grass materials are fairly benign and won't react with much. Despite this, some chemicals will damage the grass. This can mean discolouration or deformation of the fibres. To avoid any patchiness its best to clean off anything which may damage it as fast as possible.

Sharp objects

. Sharp objects are probably the most overlook danger to artificial grass. This doesn't just mean knives it also includes small chair legs and other furniture. Artificial grass will be supported by a few inches of sand. This means that any concentrated pressure will push the underlying sand out of the way risk tearing the grass on top. When using chairs it may be a good idea to spread the weight using some wood.

Heat

Artificial grass is not heat proof. It will take the hottest weather our British summer can throw at us with ease but it won't stand up to a loose coal from a BBQ. The only advice to keep your grass looking good is to keep anything which could melt it away.
A warranty is two things; (1) the manufacturer's confidence in their product, and, (2) security for you.
We are not saying that they are a necessity but they can be a sign of a higher quality product. So much of the durability of artificial grass depends on things that are not obvious to the inexperienced. A warranty is a reassurance if you are not sure.
Artificial grass is typically made up of 2 layers. The first is the one which the fibres are stitched into. The second is a latex based layer which essentially glues everything together.
A good way to check how well the grass is made is to try to pull the two layers apart. Do this with a sample rather than a roll of grass they are trying to sell. If it comes apart easily its quite likely that the fibres won't be held in well and will come out after some wear and tear.
If the specifications are available you should look at the amount of force it can with stand. This is measured in Newtons. It should be able to withstand at least 20Newtons.
Using a weed membrane depends on the surface which the artificial grass is being laid on. If it is on top on an existing surface which has no potential to grow weeds then you wouldn't need one.
If the artificial grass is being installed in place of an old lawn it is likely that there will be dormant weeds in the soil which will spring up over time. In this case, you would need to install a membrane or risk having weeds popping up in 6 months time.
Weed membranes provide a porous layer which allows water to drain but does not let weeds push through. They do add an extra cost to the installation but we highly recommend them to keep your artificial lawn looking great.
Section 3: Laying artificial grass on concrete
Artificial grass can be a great way to improve a hard area in your garden. Many people choose to cover their driveways, patios and other hard areas in artificial grass.
If you have moved into a house with a concrete driveway or a large patch of concrete in the back you may want to transform it into something softer without having to remove it.
Preston has been particularly bad for concrete backyards and driveways. This section is here to show you how to brighten up your concrete with some lovely artificial grass. 
Reasons to cover your concrete with artificial grass
IT looks better
Too much concrete can create a drab depressing environment. Artificial grass can introduce a feeling of life and vibrance with its bright evergreen impact.
It's not slippy
Concrete and other hard surfaces can get slippy with ice, algae, moss or mub build up. Other than constant maintenance, there is not much that can be done about this.
Artificial grass can save the day here as maintains its non slip surface in almost all conditions we would see in Preston.
Easy and cheap
When looking to improve or alter your concrete there are a few options such as getting rid of it, covering it with paving or some outdoor walkway coverings. These options can work but they all fall short of artificial grass in either, looks, price or time consumed to do.
Artificial grass is surprisingly cheap to buy and fast to install. It needs to setting time and does not need large amount of manual labor to install… providing you have the right base.
Do you have the right type of concrete base?
Flat concrete bases can work very well with artificial grass and give the surface a long life however there can be some problems when it comes to level and drainage.
Some of our artificial grass customers in Preston want to use it to cover concrete which is past its sell-by-date. Its cracked, chinks are missing and it is becoming uneven. This type of surface is not suitable as a base. Its likely to move around and become more uneven which with show in the artificial grass covering.
The best thing to do in this situation is to get rid of the old surface and start from scratch.
Surfaces with small imperfections are ok, they will be evened out by the artificial grass underlay. Some slightly damaged surfaces may need to be leveled with self leveling substances first.
Artificial grass drainage on concrete
If your concrete had puddles forming on it, it's likely that your new fake lawn will as well. Make sure there is a plan for drainage before installing your surface layers.
Drainage can be improved in a number of ways but it really depends on the surface. If you have flat concrete with one or two areas that pool it can be a good idea to drill holes through the concrete to let the water drain into the soil below.
Installing artificial grass on concrete: step by step guide
Laying an artificial lawn on concrete usually better done by experts as there are many small nuances which cannot be described in a short guide. However if you are reasonably practical you may be able to do a good job.
Here is the key information you need to lay your artificial grass on top of concrete.
Pro tip: if you are using foam underlay, don't do it on a windy day
Tools
Materials
Artificial grass
Joint tape
Foam underlay (optional)
Adhesive
Step 1: Prepare the surface
The artificial grass or foam underlay will need to have a decent bond with the concrete surface. Any sand, grit or debris will interfere with this bond and could mean your fake grass will move around and crease after being laid.
Clean off any dirt with a hose, brush or power wash then leave to dry.
Drill drainage holes
As mentioned above, artificial grass needs drainage or it will end up a large sponge which soaks anything it touches. Drill holes through the surface and fill them with large pebbles to allow water to get to the layers beneath the concrete.
The number of holes you will need will depend on how the water currently drains. For example, water which pools in one area may just need one or two holes in that specific area.
Make sure the surface is completely dry before moving on to the next stage.
Step 2: Install the underlay (optional)
We recommend that customers always install underlay when laying artificial grass on concrete. However, depending on what you want to use it for, it may be an unnecessary expense.  
Foam underlay will make slightly uneven surfaces level and soft to the touch. If children are going to be using the area, or you are going to play sports on it, underlay is a must.
If you are not planning on using it much then you may get away without it if the surface is level enough.
Roll out the underlay starting from the corner. You should always start from the corner farthest away from where you want to be when you are finished.
Lay the foam in position before glueing and cutting. It's a classic mistake to fix the underlay in place only to discover that it's wrong. Get everything laid out before cutting and glueing in place or you may end up with time/money consuming changes to make.
Cut to the correct size/ shape. Using scissors or a stanley knife, cut the foam to it fits flush with the edges of the area and inside. If you find it wants to move around you can use duct tape to hold the pieces together.
Glue in place. Using water resistant adhesive, glue the foam to the ground. We find that using tubed adhesive with a good zig-zag covering keeps it in place well. This method also allowed ample space for water to drain through the underlay.
Step 3: Install the grass
As with the underlay, the best practice is to lay the grass out where it will go before cutting or gluing. Make sure the underlay is fixed in place so that it doesn't move around.
Glue the edges which don't need cut. If your fake grass fits flush with an edge, it is advisable to glue this area first and work from there.
Cut the rest to shape. When you are sure that it all fits nicely it's time to cut it to shape. This can be harder than it sounds as it's not always easy to cut. Err on the side of caution and leave a little too much which can then be trimmed or tucked under.
Stick down the joints. As you work backwards you should stick down the joints that you come to. Do this by cutting a strip of joint tape the length of the joint. Cover the joint tape with adhesive using a generous application (no need to completely cover, its strong stuff). The joint tape should be half stuck to one sheet and haft to the other, all the way along the underside of the joint. Make sure its flush.
Make sure to pull it tight. You want the artificial grass to be flush and smooth. To achieve this you may need to go back over it again before the adhesive dries. Make sure to flatten out all the creases and cut off as much excess as possible.
Most artificial grass is stored in roles so it will be flattened down when you get it. To perk it up again use a stiff bristled broom to push the fibres into the upright position.
Sand is optional. Some people like to use it because it protects the artificial lawn from a little damage and reduces the amount of heat it absorbs in summer. Others don't like to use it because, well, its sand. And it gets everywhere.
Conclusion
Artificial grass can spice up a drab price of concrete or tired old paving. For a relatively low cost you can create a nice area to enjoy in the warmer months.
If you decide that you would rather have a professional install your artificial grass, please get in touch. Acorn Gardening are experts in creating low maintenance gardens.
Section 4: Choosing the best artificial grass for dogs
Most people who have a dog have discovered that gods and real grass don't go well together. Muddy paw prints in the house, yellow urine circles in the grass and ripped up patches are the hallmarks of a dog-grass combo. 
Despite this, dogs needs somewhere to play and a place to do their business which isn't behind the couch. People around Preston have been installing artificial grass in their gardens as a solution to this problem.
Artificial grass is an ideal surface for dogs and their owners. But all artificial grass is not made equal when it comes to suitability for dogs. Below we will go through our recommendations for the ideal type of artificial grass to get for your dog. 
Choosing the right pile height is a trade off between comfort and easy to clean. Dogs like the soft feel of grass under their feet as much as we do. Taller pike height can increase the real feel and softness of the artificial grass. If it feels better the dog will be more inclined to walk on it and use it.
It's pretty likely that your dog will choose a favorite few spots on your new artificial lawn to do its business. Higher pile means more fibres for the unspeakable to get stuck to… and more work to get it off.
Our advice: Get a fairly short pile height to avoid clumps of mess that need hand cleaning. 20mm – 30mm max
Pile density isn't a huge consideration unless you have a very large dog. Pile density provides cushion and durability against foot traffic.
Dogs don't tend not leave a large amount of wear and tear on artificial grass but they do like to have some cushion. We recommend at least 15,000 stitches per square meter. Anything over this is just down to personal preference and will have little impact on the durability.
Our advice: pile density isn't a big deal for dogs. Get something good enough but not over the top.
Best material
When it comes to choosing the correct material the considerations for pets are the same as they would be for children. Check out our the artificial grass types guide above to get a good idea of the type you should go for.
Foam underlay
Foam underlay underneath your artificial grass can be great for kids but is a bad idea for dogs. The soft surface it creates can make a hard surface into a cushioned one which is a pleasure to stand on. However it will also absorb urine which can start to smell bad.
We were recently called in to sort out some artificial grass in Preston which had started to smell awful after being used by a dog.
Our advice: foam underlay is a bad idea for dogs
Installing pet friendly artificial grass
The process of installation will be exactly the same as with any other type of artificial grass. However there is one point which has to be emphasised for pets: Drainage
Because there will be bad smelling substances on the artificial lawn it is very important that they can be washed away when it rains. If you are installing the grass on a surface with poor drainage such as concrete it is advisable to modify the surface with drainage holes. 
Ideally your pet friendly artificial grass should be laid on a base of hardcore and sharp sand. This gives excellent drainage which will keep the bad smells away.
Our advice: good drainage is essential
Maintaining your dog friendly artificial grass
Artificial grass has become very popular in Preston because it is low maintenance. Maintenance for pets should include brushing and the occasional wash.
Brushing helps to spread and even out the base and also to keep the pile standing up and looking good. Using a stiff bristled brush for best effect. This only needs doing when it starts to look like it.
Washing your artificial grass is essential for dog owners as it will keep it looking and smelling fresh. Just use plain water and an outdoor brush every couple of months.
The great thing is that you can brush and wash the grass at the same time.
Our advice: Brush and wash your dogs artificial grass every 2 – 6 months
Conclusion
Artificial grass is a great choice for your dog. It is durable, low maintenance and will look good for years. You main concerns are primarily do do with keeping the odours away. Get short pile grass with good drainage and make sure it is washed every few months.
And that's all there is to it. As long as you go for a reputable brand there will be no problems. You will have a lovely artificial lawn for your dog to enjoy for the coming years.
Acorn Gardening are experts at artificial grass installation in Preston. If you are thinking of upgrading to artificial grass get in touch for a free consultation.
Artificial grass service areas
Acorn Gardening offers artificial grass services in Ashton, Bamber Bridge, Buckshaw Village, Chorley, Euxton, Fulwood, Grimsargh, Higher Walton, Hoghton, Howick Cross, Hutton, Lea, Leyland, Lostock Hall, Much Hoole, New Longton, Penwortham, Ribbleton, Riley Green, Samlesbury and Walton-le-Dale.